Welcome To Northernsoultrain


Aretha Franklin
Aretha Louise Franklin (born March 25,1942) is an American singer,songwriter, and pianist. She is known to her fans "The Queen of Soul" and is also affectionately called "Sister Ree". She is renowned for her soul recordings but is also adept at jazz, rock,blues, pop,gospel, and evenopera. She is widely acclaimed for her passionate, soulful vocal style, which is aided by a massive and powerful vocal range.
Franklin is the second most honored female singer in Grammy history (after Alison Krauss). She has won twenty Grammy Awards, which includes the Living Legend Grammy and the Lifetime Achievement Grammy. Aretha won eight consecutive awards between 1968 and 1975, during which time the category of Best Female R&B Vocal Performance was nicknamed "The Aretha Award".
Franklin has had a total of seventeen top ten singles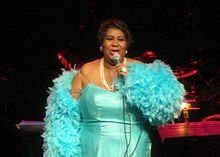 on theBillboard R&B Singles Chart. Two of them became #1 hit songs on the Billboard Hot 100 as well, "Respect" in the 1960s and her 1980s duet with George Michael, "I Knew You Were Waiting (For Me)".
"Queen of Soul"
In 1967 Franklin issued her first Atlantic single, "I Never Loved A Man (The Way I Love You)", ablues ballad that introduced listeners to her gospel style. Produced by Jerry Wexler, the song became Franklin's breakthrough single reaching the Top 10 on the Hot 100, and holding the 1 spot for 7 weeks on Billboard's R&B Singles chart. The B-side to the single, "Do Right Woman, Do Right Man", charted on the R&B side, and introduced a more gospel element to Franklin's developing sound.
Her next single, "Respect", firmly launched Franklin to superstardom. Written and originally recorded by Otis Redding, Franklin's feminist version of the song became her signature tune for life hitting 1 on both the R&B and the Pop charts - holding the top spot on the former chart for a record 8 weeks - and helping her Atlantic debut album, I Never Loved A Man The Way I Love You, reach million-seller status. In the next ten months, Franklin released a number of top ten hits including "Baby I Love You", "Chain Of Fools" and "(You Make Me Feel Like) A Natural Woman".
Aretha Franklin



In early 1968 Franklin won her first two Grammies (for "Respect"), including the first Grammy awarded in the "Best Female R&B Vocal Performance" category. Franklin went on to win eight "Best Female R&B Vocal Performance" awards in a row. Over the next seven years, Franklin continued to score hit singles including "Think", "The House That Jack Built", "I Say A Little Prayer" (a cover of Dionne Warwick's hit), "Call Me" (a US 13), "Don't Play That Song" (US 11) and "Spanish Harlem (song)"a cover of Ben E.King's 1960 hit, reached 2 on Billboard's Hot 100 and gave Aretha her first Top 10 Adult Contemporary (at the time labeled Easy Listening) hit.
By the end of the 1960s, Franklin's position as The Queen of Soul was firmly established. Her albums were also hot sellers; one in particular, 1972's Amazing Grace, eventually sold over two million US copies, becoming "the best-selling gospel album of all time". Franklin's hit streak continued into the mid-1970s. 1973's emotional plea "Angel", produced by Quincy Jones and written by Franklin's sister Carolyn, was a stand out single that became yet another 1 on the R&B chart. The subsequent album Hey Now Hey (The Other Side of the Sky), however, was not successful.
1974's Gold-certified single "Until You Come Back to Me (That's What I'm Gonna Do)" hit 1 R&B and 3 on the Billboard Hot 100. By 1975, however, with the expanding exposure of Disco and the popularity of fellow Atlantic artist Roberta Flack, relations between Franklin and Atlantic Records were starting to strain. As a result, Aretha was recording poor material such as 1975's listless You album, and her record sales declined dramatically. Franklin had peaked while the music industry was moving on to younger black female singers such as Natalie Cole, Chaka Khan, and Donna Summer.
Atlantic Records (1967-1979)
A-sides and B-sides that charted separately have individual entries. Singles that were tracked as "double A-sides" have both titles listed under one entry, as with "Border Song (Holy Moses)" / "You And Me".
"I Never Loved a Man (The Way I Love You)" (A-Side)

"Do Right Woman - Do Right Man" (B-Side)

"(You Make Me Feel Like) A Natural Woman"

"Satisfaction" (UK release only)

"(Sweet Sweet Baby) Since You've Been Gone"

"The House That Jack Built" (A-Side)

"I Say a Little Prayer" (B-Side)

"Tracks Of My Tears" (B-Side)
Northernsoultrains Youtube Channel

The trains very own page with Northern Soul and Motown
Back to the ARTISTS page