Welcome To Northernsoultrain
About
Northern Souls Top 600 part 4.
Tracks 301 to350
How the Northern soul bug got hold of me, smacked me in the face and never let go
1972 England. Age 15
In the begining there were discos and dances at the local youth club village hall. They were places where girls danced around their handbags boys huddled in groups watching. Waiting for the end of the night,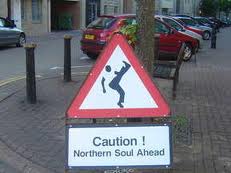 when hopefully the opportunity would arise to walk one of the girls home.
The urge to dance grew, look at the benifits. But boys didn't dance! To hell with it. With considerable help from the girls, the art of dancing, if that's what you call total unco-ordinated movement, was mastered. The sounds of the day Hamilton Bohannon, KC and the Sunshine band, Fatback band etc.
Then a short while after, at a Saturday night disco at the village hall, some newcomers arrived. Baggy high wasteband trousers, full length leather coats,bowling shirts splayed shoes. These guys were cool And they new it, so did the girls. Some of them carried small black boxes, which were handed over to the DJ. What happened next I was totally unprepared for, and the following few hours would change my life forever.
Their appearance forced me into retreat to the back half of the hall. Then in between The Sweet Shawadywady and the Rubettes came a new sound. Although a somewhat familier sound, something along the lines of what my sister had played when I was a child, it was a new exciting sound. The dance floor cleared, and the newcomers took to the floor. Stomping, shuffling, back drops, front drops, spinning, clapping, high kicks, low kicks all in perfect time to the music. The driving beat of the music and wailing vocals seemed to compliment the dancing so well, or was it the other way around? All my senses were going into meltdown.
The tracks being played at the time were Out on the floor - Dobie Gray, The Snake - Al Wilson, Needle in a Haystack - Velvelettes, Tell me it's just a rumour baby - The Isley Brothers.
This music, the dancing, this was for me, I wanted to be like them, and I wanted people to look at me the way I was looking at them.
Thank you for having a look at northernsoultrain now tell the world about us
Northernsoultrains Youtube Channel

The trains very own page with Northern Soul and Motown