Welcome To Northernsoultrain
Betty Wright
Born in Miami Florida on Dec 21, 1953 Betty began her music career at the tender age of 3, singing with her mother who played guitar and sister Jeanette Holloway and brothers Phillip ' Leno Phillips' and Milton Wright as The Echoes Of Joy,' in 1956. They toured with gospel artists such as The Staple Singers and Johnnie Taylor who at the time performed with the Highway QC''s.
After the Echoes Of Joy split, Betty began to venture into secular music and won a singing contest on a local radio show. Her prize was a phonograph record. A local producer / songwriter Willie Clarke and singer Clarence Reid discovered the young talented 13 year old one day singing in a store and wanted to record her. Getting permission from her mother wasn't an easy task.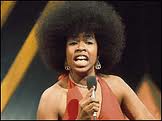 She didn't want her 13 year old involved in the music business. Afterwards, she reluctantly changed her mind and Betty made her early recordings for two local independent labels in 1966. 'Thank You Baby b/w 'Mr. Lucky' were featured on Solid Soul and ' Paralyzed' b/w 'Good Lovin' on Deep City
It wasn't until after Willie Clarke took Betty to legendary music impresario Henry Stone where her musical destiny soon took place. Henry owned a majority of labels that were uniformed under T.K Productions, named after engineer Terry Kane who constructed all of the studios, T.K, Alston, Cat, Marlin, Drive, and Stone Dog. Henry also owned Tone Distributors, the major supplier of R&B records in Florida.


BETTY WRIGHT Where is the love


After a distribution deal was made with Atlantic Records, Henry Stone formed the Alston label where he released Betty's first single, ' Girls Can't Do What The Guys Do' b/w 'Sweet Lovin' Daddy' in 1968. After a version by Judy White (daughter of legendary blues singer the late Josh White and South African entertainer the great Ms.
Miriam Makeba) was released on Buddah Records, Atlantic began to push the song. 'Girls Can't Do What The Guys Do' b/w Sweet Lovin Daddy' entered the R&B singles charts on August 3 and No 15 the week ending Sept 21, 1968. Her second follow up ' He's Bad Bad Bad' b/w Watch Out Love' from her first LP ' The First Time Around' released in late 68' sank without a trace.
Throughout Betty's attendance in high school, Alston released ' Pure Love' in 1970 (No 40 R&B) produced by Brad Shapiro who later wrote and produced with Dave Crawford the million seller dance classic for Wilson Pickett in 1971, 'Don't Knock My Love' and several hits for Millie Jackson. ' I Love The Way You Love' was her 3rd charted release (No 44 R&B Aug 28, 1971) and then came the song that would transform Betty into international stardom. 'Clean Up Woman' b/w I'll Love You Forever was instant million selling hit, No 2 R&B the week ending Dec 25, 1971 and No 6 Pop. With its masterpiece guitar riff by Willie 'Little Beaver' Hale who 3 years later in 1974 recorded a smash entitled ' Party Down', 'Clean Up Woman' had a catchy rhythm and title that the record purchasers enjoyed Betty quoted in an 1972 interview in England's No 1 magazine Blues & Soul. She admitted that she didn't like the song too much but as time went by she learned to adapt to it.
'I'll Love You Forever' is a classic B-side and one of my favorites by Betty. The background singers were a discovery of Clarence Reid called the Reid Singers. In early 1972, singer/ dancer and label mate Jimmy Bo' Horne recorded an answer song to ' Clean Up Woman' called 'Clean Up Man' which gained regional airplay. Matching up to 'Clean Up Woman's standard wasn't an easy thing. Her next two releases ' If You Love Me Like You Say' b/w 'I'm Getting Tired Baby' (No 21 R&B) and 'Is It You Girl' (No 18 R&B) did fairly well but her next single 'Baby Sitter' (No 6 R&B) was the hit that returned her into the the top ten position. An LP entitled ' I Love The Way You Love' was released in early spring of 1972 hitting No 32 on the Soul LP charts. Willie Clarke and Clarence Reid composed most of Betty's recordings. Clarence recorded a masterpiece classic in the summer of 1969 called, ' Nobody But You Babe' b/w 'Send Me Back My Money' on Alston (No 7 R&B the week ending Sept 6, 1969) and also recorded as X-rated rapper Blowfly in the late 70's on T.K. Records
From 1973 thru 1976 Betty racked up a total of 10 hits with 'It's Hard To Stop (Doing Something When It's Good To You) (No 11 R&B)… ' Let Me Be Your Lovemaker' (my personal favorite) (No 10 R&B).... 'It's Bad For Me To See You' (No 66 R&B)...'Secretary' (No 12 R&B)… 'Shoorah! Shoorah' written by legendary singer/ songwriter /producer Allen Toussaint with a classic B-side 'Tonight Is The Night' (No28 R&B)...the dance classic 'Where Is The Love' (No 15 R&B)...'Ooola La' (No 28 R&B)... 'Slip And Do It' (No 21 R&B) and 'If I Ever Do It' (No 21 R&B). Where Is The Love' written and produced by Harry 'KC' Casey of the group K.C & The Sunshine Band and Harry Finch, won a Grammy for Best R&B Song of 1975. Shoorah Shoorah' was Betty's first hit in the U.K. and began touring across the Atlantic. With 3 LP releases ' Hard To Stop' (1973) 'Danger High Voltage (1974) and 'This Time For Real' (1977) it was becoming clear that Betty reign as the Queen of the Miami soul.
In June 1978, Betty achieved success with her one gold LP entitled, 'Betty Wright Live'. Her live version of 'Tonight Is The Night Pt. 1 (Rap)' revived her recording career and brought her back into the limelight hitting (No 11 R&B) becoming a staple in all of the major black clubs across the country. 'Tonight Is The Night' is a story about her anticipation of losing her virginity. In the live version, Betty added a spoken into which she said originally intended to be a poem. The album was recorded live at Miami's Marco Polo Hotel. While Betty wasn't recording or touring she lend her voice for background session work for such artists as Stephen Stills, The Rolling Stones. She was the guest voice for label mate Peter Brown on 3 of his major hits, the hypnotic 'Do You Want To Get Funky With Me', ' Dance With Me' and 'You Should Do It'. Her most memorable session work was with the late Richard ' Dimples' Fields on his 1981 summer hit 'She Got Papers On Me' where Betty reminds him who's the real domestic of their household.
Her last two recordings for Alston, ' Loving Is Really My Game' (No 68 R&B) and ' My Love Is' (No 48 R&B) fail to show any progress so she left Alston in late 1979 and signed with Epic Records in 1980, where she released 3 singles, ' What Are You Going To Do With It' (No 42 R&B)... 'Goodbye You Hello Him' (No 65 R&B)...and 'She's Older Now (No 22 R&B). Epic released two LP's 'Betty Wright' and ' Back At You' . Betty departed from Epic in 1983. She signed with an independent label Jamaica 3 in 1984 and waxed one single, 'One Step Up, Two Steps Back' (No 75 R&B). Betty once again restored back into the R&B top 15 in the spring of 1988 with 'No Pain, No Gain' (No 14) on the Vision label.
Proudly I might add that Betty Wright was inducted into the R&B Foundation on Wednesday, Sept 6, 2000 . She brought the house down with her signature hit 'Clean Up Woman' and injected a rap on artists of today who sampled her music without creativity or permission. It was indeed a night to remember. The Chi-lites were also inducted
Motown great Smokey Robinson who was the show's host. We then afterwards had breakfast with such legends as The Dells, singer/ songwriter George Kerr, Johnny Keys of the Magnificents (who also worked at Fame Studios and compose the hit 'Too Weak Too Fight' for Clarence Carter in 1968) Sam Gooden and Fred Cash of The Impressions and Marshall Thompson of the Chi-Lites. Betty Wright continues to retain her throne performing for her adoring fans around the globe. She helped shaped and formed the sound of Miami and contributed to the R&B world, down to earth southern styles of feel good music.
Hail To The Queen of The Miami Scene! Ms. Betty Wright.
Discography

My First Time Around (1968) (Atco Records)

I Love the Way You Love (1972)

Danger High Voltage (1974)

This Time for Real (1977)

Betty Wright Live (1978), (TK-Records 4408)

Wright Back at You (1983)
Northernsoultrains Youtube Channel

The trains very own page with Northern Soul and Motown
Back to the ARTISTS page