Welcome To Northernsoultrain
Booker T. and the M.G.'s
"As the house band for the Stax/Volt labels, Booker T. and the MG's helped define the Comments, punchy sound of Memphis soul music. By contrast to Motown's orchestrated, pop-soul records, the Stax approach was lean, economical and deeply groove-oriented. Between 1963 and 1968, Booker T. and the MGs appeared on more than 600 Stax/Volt recordings, including classics by such artists as Otis Redding, Eddie Floyd, Rufus Thomas, Carla Thomas, Johnnie Taylor and William Bell. As a result of Stax's affiliation with Atlantic Records, the group also worked withWilson Pickett, Sam and Dave, and Albert King. Moreover, Booker T. and the MGs were a successful recording group in their own right, cutting ten albums and fourteen instrumental hits, including "Green Onions," "Hang 'Em High," "Time Is Tight" and "Soul-Limbo."
Booker T. and the M.G.'s


The group came together in the early Sixties at Stax Records, a studio and record store on East McLemore Avenue in Memphis. By 1962, guitarist Steve Cropper, organist Booker T. Jones and bassist Lewis Steinberg were established session musicians at Stax. They were joined on a recording date for Billy Lee Riley (of "Flying Saucers Rock 'n' Roll" fame) by drummer Al Jackson, with whom Steinberg had played in the house band at Memphis' Plantation Inn. It was during some down time at the Riley session that this lineup recorded the classic Sixties soul instrumental "Green Onions." The definitive version of Booker T. and the MGs (which stood for "Memphis Group") was completed in 1963,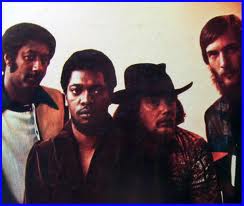 when bassist Donald "Duck" Dunn - a former schoolmate and bandmate of Cropper's who'd been touring with the Mar-Keys, another Stax backup group - replaced Steinberg. This lineup lent instrumental fire and uncluttered rhythmic support to countless soul classics. Particularly fruitful was their relationship with Stax's biggest star, Otis Redding. In addition to playing on virtually all of his records, the band backed him at his legendary performance at the Monterey Pop Festival in 1967 (along with the Mar-Kays), and guitarist Cropper co-wrote his best-known number, "(Sittin' On) The Dock of the Bay." Cropper also shared writing credits on such soul standards as Wilson Pickett's "In the Midnight Hour," Sam and Dave's "Soul Man," Eddie Floyd's "Knock On Wood" and Albert King's "Born Under a Bad Sign."
The group gradually disintegrated after the sale of Stax in 1968, although the rhythm section of Dunn and Jackson continued to play on many subsequent Stax recordings. Booker T. Jones branched out into record production and worked on a music degree at Indiana University. Cropper opened a studio in Memphis in 1969 and moved to Los Angeles to do session work in the mid-1970s. Jackson went on to provide a solid backbeat for Al Green. All the while, Booker T. and the MGs remained an ongoing entity, albeit an intermittent and casual one - that is, until the senseless murder of Jackson by an intruder in 1975. In 1990, the remaining members came together to back Neil Young on a tour. In 1994, they released That's the Way It Should Be, their first album in more than 20 years."
Discography

1966: In The Christmas Spirit

1968: Back To Back (live album)

1969: Uptight (soundtrack)

1973: The MG's (released by The MG's)

1994: That's The Way It Should Be
Northernsoultrains Youtube Channel

The trains very own page with Northern Soul and Motown
Back to the ARTISTS page