Welcome To Northernsoultrain
Carstairs
The Carstairs' "It Really Hurts Me, Girl" endures among the most controversial and influential singles ever popularized within Britain's Northern Soul club scene. An absolutely brilliant record that uniquely captures the tectonic shift between the deep soul of the late '60s and the shimmering, propulsive Philly soul of the early '70s, it singlehandedly altered the direction and sensibility of the Northern scene. For a group of such historical importance, it's ironic that almost nothing is known about the Carstairs themselves -- even the lineup is a mystery. "It Really Hurts Me, Girl" itself was written by Cleveland Horne (best known as a longtime member of the Detroit soul group the Fantastic Four) and Raymond A. Evans, about whom nothing is known; Gene Redd produced the single, which appeared on his Red Coach label in 1973.
Carstairs


The biggest record EVER at Blackpool Mecca. Back in the day,when there was no internet, we could never locate the group, despite many attempts. In 1998, for the unique one-off Blackpool Mecca reunion, Ian was just determined to find them, and after four months of searching, He did. Twenty five years after they thought their single had never even been released, they were on stage at Blackpool Mecca, singing it on the Saturday night in front of over a thousand people, in the Highland Room which was only supposed to hold seven hundred. They were moved to tears, especially Cleveland Horne, and founder member Ervin Langley. Tragically, within two years, those two of them had passed away. But at least they got to stand just once in the limelight. It could never ever happen again, it was a one time moment in history, and because of the iconic nature of the record, this footage is priceless beyond belief.
"It Really Hurts Me, Girl" sank without a trace in its native U.S., but somehow Ian Levine -- the now-legendary DJ at the landmark Blackpool Mecca club -- got his hands on a copy and began spinning it regularly. With its slick, contemporary arrangement and pulsating,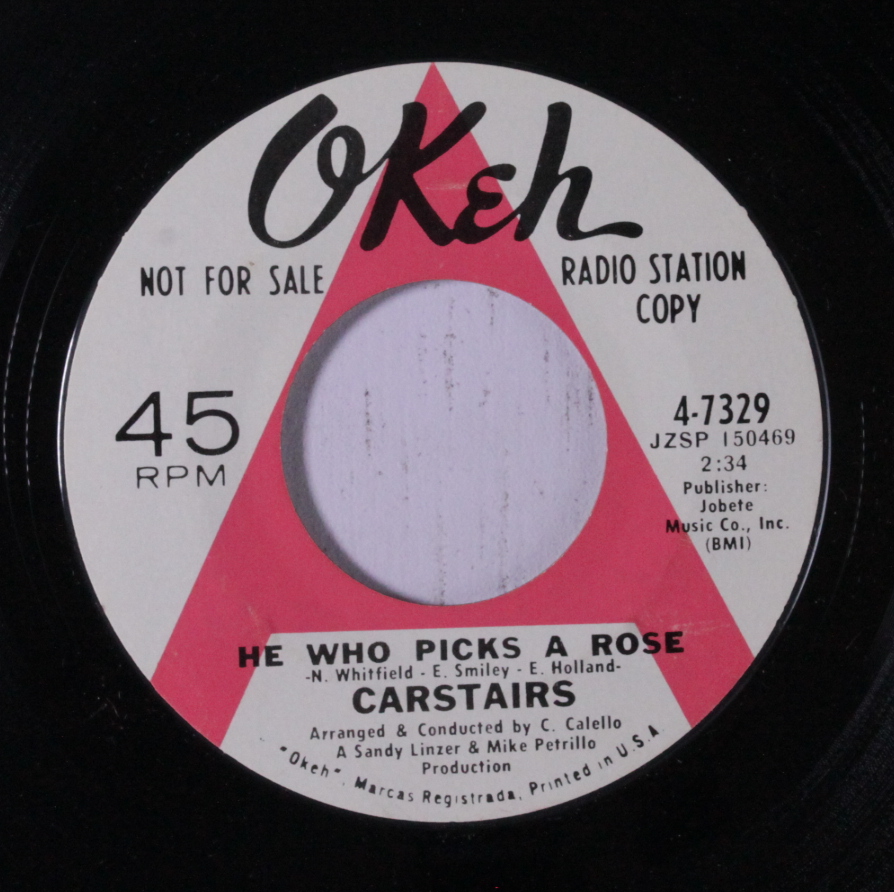 pre-disco rhythm, the record was unlike anything ever spun at a Northern all-nighter, and crowds were sharply divided -- some embraced Levine's evolution beyond the Motown soundalikes that dominated rival playlists, while staunch traditionalists were so upset that many left Blackpool Mecca for good. Now unequivocally recognized as an underground classic, "It Really Hurts Me, Girl" opened the floodgates for other post-'60s soul music to enter the Northern pantheon, and is a staple of Northern Soul compilations to this day; there is also a handful of other known Carstairs recordings, including a psychedelic reading of Edwin Starr's "He Who Picks a Rose," "Stick by Me, Baby," and "Happy Days
Singles

"It Really Hurts Me Girl"
<!-
Northernsoultrains Youtube Channel

The trains very own page with Northern Soul and Motown
Back to the ARTISTS page