Welcome To Northernsoultrain
Chiffons
The Chiffons were one of the top girl groups of the early 1960s. With their trademark tight harmonies, high-stepping confidence and the hit machine of Goffin and King writing songs such as "One Fine Day," the Chiffons made music that helped define the girl group sound of the era.
Chiffons


The group was originally a trio comprising Judy Craig (lead singer), Patricia Bennett and Barbara Lee. They formed at James Monroe High School in The Bronx in 1960. At the suggestion of songwriter Ronnie Mack, Sylvia Peterson was added to the group in 1962. Peterson had previously sung with Little Jimmy & The Tops in 1959 when she was fourteen years old. This group had a local hit with "Puppy Love" (V-Tone). Sylvia shared the lead with Jimmy on the single's B-Side, "Say You Love Me". Peterson would later lend her leads to Chiffons' "Why Am I So Shy", "Strange, Strange Feeling", "The Real Thing" and the pseudonym sides as The Four Pennies, "My Block", written by Jimmy Radcliffe, Carl Spencer and Bert Berns, and "When The Boy's Happy".
Another group from California also used the name "Chiffons" and recorded three singles, including a version of the Shirelles' "Tonight's The Night". According to Craig and Bennett, the New York Chiffons have no connection to the other group. The group hit the number one spot in the United States with their first single "He's So Fine", written by Ronnie Mack, and released on Laurie. It sold over one million copies, and was awarded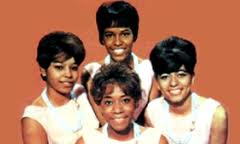 a gold disc.[1] George Harrison's 1970 song "My Sweet Lord" was musically similar, prompting a copyright infringement claim. The Chiffons went on to record "My Sweet Lord" in 1975. A judge later found that Harrison had unintentionally plagiarized the earlier song.
Their first hit was followed by other notable tunes such as Gerry Goffin and Carole King's "One Fine Day", "Sweet Talkin' Guy" and "I Have A Boyfriend". Their Top 40 single "I Have A Boyfriend" was playing on Dallas station KLIF on November 22, 1963 and was interrupted by the first radio bulletins of the JFK assassination.[3] The group also released two singles in 1963 as The Four Pennies on the Laurie subsidiary, Rust Label. Craig left the Chiffons in 1970 and they continued as a trio. In 1992, Lee died from a heart attack the day before her 45th birthday, and Craig returned to the group. Peterson retired shortly thereafter and was replaced by Connie Harvey. Harvey has since left to pursue a solo career and Bennett has retired from the group. Currently as of 2009, Judy Craig performs as The Chiffons with her daughter and her niece, appearing at select shows throughout the U.S. and Internationally.
Singles

1963: "He's So Fine"/"Oh My Lover"

1963: "Lucky Me"/"Why Am I So Shy"

1963: "One Fine Day"/"Why Am I So Shy"

1963: "A Love So Fine"/"Only My Friend"

1963: "I Have a Boyfriend"/"I'm Gonna Dry My Eyes"

1964: "Sailor Boy"/"When The Summer Is Through"

1964: "Easy To Love"/"Tonight I Met An Angel"

1964: "What Am I Gonna Do With You (Hey Baby)"/"Strange, Strange Feeling"

1965: "Nobody Knows What's Goin' On (In My Mind But Me)"/"Did You Ever Go Steady"

1965: "Nobody Knows What's Goin' On (In My Mind But Me)"/"The Real Thing"

1965: "Tonight I'm Gonna Dream"/"Heavenly Place"

1966: "Out of This World"/"Just A Boy"

1966: "Sweet Talkin' Guy"/"Did You Ever Go Steady" (1972 re-issue))

1966: "My Boyfriend's Back"/"I Got Plenty Of Nuttin'"

1967: "If I Knew Then"/"Keep The Boy Happy"

1968: "Up on the Bridge"/"March"

1968: "Just For Tonight"/"Teach Me How"

1969: "Love Me Like You're Gonna Lose Me"/"Three Dips Of Ice Cream"

1970: "So Much in Love"/"Strange Strange Feeling"

1975: "My Sweet Lord"/"Main Nerve"

1976: "Dream Dream Dream"/"Oh My Love"
Northernsoultrains Youtube Channel

The trains very own page with Northern Soul and Motown
Back to the ARTISTS page