Welcome To Northernsoultrain
Darrel Banks
Darrell Banks (born Darrell Eubanks, 1938, Mansfield, Ohio - died Detroit, Michigan, March 1970) was an American soul singer.
Banks grew up in Buffalo, New York, and learned to sing in gospel churches before choosing a career in secular music. He signed with Solid Hitbound Productions/Revilot Records, who released his 1966 single "Open the Door to Your Heart" (which, curiously, is legally named "Baby Walk Right in"), written by Donnie Elbert. When the single came out, Banks was credited as the songwriter instead of Elbert, and a protracted legal battle ensued; however, while the courts settled the matter (eventually in Elbert's favor),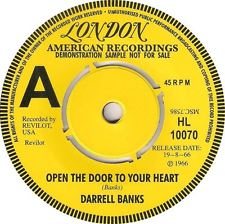 the tune scaled the US charts, peaking at 2 R&B and 27 on the Billboard Hot 100.
A second single, "Somebody (Somewhere) Needs You", hit 34 R&B and 55 pop later that year. Moving to Atco Records, he released the singles "Here Come the Tears"/"I've Got That Feelin" and "Angel Baby (Don't Ever Leave Me) Look into the Eyes of a Fool" in 1967, neither of which charted.
Darrel Banks


Atco also released a full-length of his which included his Revilot singles. Atco subsidiary Cotillion Records released his last single under the Atlantic Records umbrella, "I Wanna Go Home"/"The Love of My Woman".
From there Banks signed to Stax Records, who released another full-length of his in 1969 and two more noncharting singles. They would be Banks's last recordings; in March of 1970, Banks was shot and killed by policeman Aaron Bullock after Banks intervened in his affair with Banks's girlfriend, Marjorie Bozeman
Singles

Open the door to your heart

Somebody (somewhere) needs you

Just because your love is gone

I'm the one who loves you
Northernsoultrains Youtube Channel

The trains very own page with Northern Soul and Motown
Back to the ARTISTS page