Welcome To Northernsoultrain
Dramatics
The Dramatics (formerly The Dynamics) were a soul music vocal group, formed in Detroit, Michigan in 1962. They changed their name by 1967,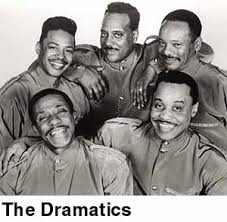 when they garnered their first minor hit, "All Because of You." However, the group did not break through until their 1971 single, "Whatcha See Is Watcha Get." Their members at this time were Ron Banks, William "Wee Gee" Howard (who died of a heart attack on February 22, 2000 at age 49), Elbert Wilkins (who died of a heart attack on December 13, 1992 at age 45), Willie Ford and Larry Demps. Shortly after the success of their first album, Howard and Wilkins left the group. They were replaced by L.J. Reynolds and Leonard "Lenny" Mayes. Through the 1970s, the group appeared on Soul Train and continued to have hits, including the 1 R&B hit, "In the Rain," "Toast to the Fool", "Me and Mrs. Jones", "I'm Going By The Stars In Your Eyes" and "Be My Girl."
The group continues to tour and presently consists of Banks, Reynolds, Ford, Winzell Kelly and Michael Brock, who replaced Mayes (who died of lung cancer on November 8, 2004 at age 53).
The Dramatics were also mentioned in the novel "The Algiers Motel Incident" by John Hersey . They were staying at the Algiers Motel, following a performance at Detroit's Fox Theatre, during an alleged murder by members of the Detroit Police Department, which was one of the incidents which sparked the Detroit Riots of 1967.
The Dramatics "Watcha See Is Watcha Get" appeared in the 2005 documentary Sunday Driver.
Dramatics / Dynamics


Northernsoultrains Youtube Channel

The trains very own page with Northern Soul and Motown
Back to the ARTISTS page