Welcome To Northernsoultrain
Drifters
Clyde McPhatter, formerly lead singer with Billy Ward's Dominoes, formed the Drifters in 1953 with second tenor Gerhard Thrasher, baritone Andrew Thrasher, and bass Bill Pinkney. Before McPhatter entered the Army in the mid-1950s, the group enjoyed a strong of R&B hits featuring his smooth, sexy tenor voice,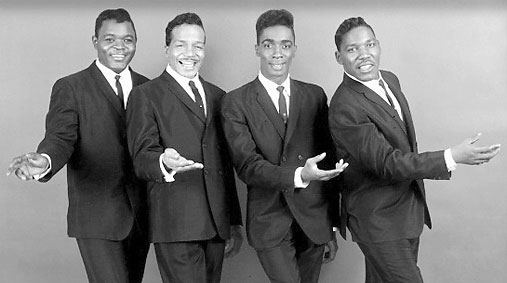 most notably "Money Honey" (Atlantic 1006; 1953; 1 R&B 11 weeks), "Such A Night"/"Lucille" (Atlantic 1019; 1954; "Honey Love" (Atlantic 1029; 1954; "Bip Bam" (Atlantic 1043; 1954; "White Christmas" (Atlantic 1048; 1954/1955/1956; "What 'Cha Gonna Do" (Atlantic 1055; "Adorable"/"Steamboat" (Atlantic 1078; 1955; and "Ruby Baby" (Atlantic 1089; 1956;
Following a period of diminished record sales—and various personnel changes—the group disbanded in 1958. Because the Drifters had signed a multi-year contract with New York's Apollo Theater, their manager recruited another group, the Five Crowns, to fill the void. Assisted by the songwriting/production team of Leiber and Stoller, the new Drifters quickly outstripped their predecessors with releases like "There Goes My Baby" (Atlantic 2025; 1959; reputedly the first R&B recording to utilize a sophisticated string arrangement, "Dance with Me" (Atlantic 2040; 1959; "This Magic Moment" (Atlantic 2050; 1960; "Save the Last Dance for Me" (Atlantic 2071; 1960; and "I Count the Tears" (Atlantic 2087; 1960;
When lead singer
Ben E. King
—who would record the solo hits "Spanish Harlem" (Atlantic 6185; 1960-1961; and "Stand By Me" (Atlantic 6194; 1961—departed, the Drifters remained successful with recordings such as "Up On the Roof" (Atlantic 2162; 1962; and "On Broadway" (Atlantic 2182; 1963; which featured Rudy Lewis singing lead. Following his death in 1963, Johnny Moore became the frontman for bestsellers such as "Under the Boardwalk" (Atlantic 2237; 1964;) and "Saturday Night at the Movies" (Atlantic 2260; 1964;
By 1967 the hits had stopped coming, although the group continued to perform well into the 1970s. The act was revived in the mid-1970s to capitalized on the oldies circuit. Releases of both new material and updated versions of the group's old hits, however, failed to compete with regular reissues of the classic Drifters recordings.
Drifters


1950s The Drifters Singles

1956 I Gotta Get Myself A Woman

1959 (If You Cry) True Love, True Love
1960s/70s The Drifters Singles



1960 Let the Boogie Woogie Roll

1960 Save The Last Dance For Me

1961 Some Kind of Wonderful

1961 Stranger on the Shore

1961 When My Little Girl Is Smiling

1962 Stranger On The Shore

1964 In the Land of Make Believe

1964 I've Got Sand in My Shoes

1964 Saturday Night At The Movies

1965 Come On Over To My Place

1965 I'll Take You Where The Music's Playing

1966 Memories Are Made of This

1974 Kissin' In The Back Row Of The Movies
Northernsoultrains Youtube Channel

The trains very own page with Northern Soul and Motown
Back to the ARTISTS page