Welcome To Northernsoultrain
Epitome Of Sound
aka Moses Smith
In the 1960's, the Megatons were a Motown/Soul style group from New Jersey, USA who were made up of 4 musicians (all White Men), and 1 lead singer (a Black Man).
The instrumentation included; bass, drums, guitar, and organ. The group performed in various nite-clubs throughout Jersey and had a large following of fans. In 1967, three of the group members (Bob Ligatino, bass, Eddie Dill, aka Eddie Charles, guitar, and Eugene Thomas, lead singer, decided to make some personnel changes, and Mike Paladino, drums, and Joe DeJohn, organ,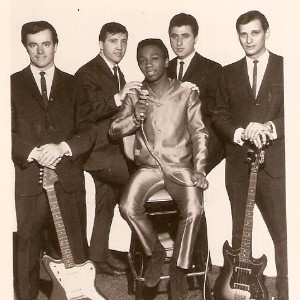 joined the Megatons.
Both Mike and Joe were cousins, and longstanding musicians, and had somewhat famous careers as backup musicians. Mike, on occasion, was personal drummer with The Four Seasons, and Joe played keyboard with Elvis Presley during Elvis' Las Vegas comeback period.
The Megatons, with a new drummer and organ player continued to perform playing the nite-club circuit. They rehearsed on their days off in Mike Paladino's mother's basement in Bound Brook, NJ. In attendance at most of the rehearsals was Mike's brother, Robert Paladino.
Robert performed and recorded with doo-wop, and jazz vocal groups in the early to mid 60's and had written some of their material. He decided to write especially for the Megatons, so, on an old beat-up guitar with missing strings, he composed 2 songs, "You Don't Love Me", and "Where Were You", which he sang for them. The response was positive for both songs! Robert expressed that he wanted to produce the group and record both songs, and that he knew of a newly opened studio close by in Bound Brook. The group agreed. Robert wrote the musical intro's for both songs, and worked with Joe in chord structure and key transpositions, while Eugene, created and sang the lead vocal, and the group arranged and played the basic track. Two female and three male voices, all local talent, would be the added background singers on the recordings.
Epitome Of Sound aka Moses Smith


The studio was built inside of the old "Lyric Movie Theatre". It was only a two-track studio, and even though all of Robert's recordings were done at 4 track studios in NYC, he knew that the Bound Brook Studio called Venture Sound, could produce recordings with a unique sound. There were 2 reasons for this; one was due to the expertise and credentials of the two partners who owned the studio. Anthony Bongiovi(Jon Bon Jovi's Uncle) was the engineer, and Tony Camillo was the musical arranger and orchestra conductor. The 2nd reason was that their echo chamber was located in what was the former men's room of the theatre, built several feet below ground level. The natural echo and acoustics were near perfect, and Robert knew this from his past movie house visits. The studio partners would also become part of the magic that soon would touch their lives and help shape their futures.
It was now late 1967, and the recording dates had been scheduled. It was decided that the basic music tracks would be laid down first, which would include the acoustic guitar intro and accompaniment. A demo was cut to allow for the lead and background singers to practice with. We then went back into the studio to record the vocals. After completing this part of the production, Tony Camillo was asked to arrange and add strings to both recordings.
Tony Camillo was a classically trained musician, arranger/conductor. Previously, he primarily focused on the Big Band style of music, and had played bass in small combos. He played a function with Mike Paladino in the early 60's and said he would never play rock-and-roll, because it wasn't his style of music. Now, a few years later, Tony was arranging and conducting for a Motown style soul record. It goes to show just how people change and events cause them to change.
The strings and horns were added by Tony Camillo, and Anthony Bongiovi did a great job in going from track to track on a 2 track system, with minimal generational sound loss. The final mix was completed the following week and a Master Tape created.
We now had a finished product, and Robert's intent was to find a label interested in releasing a 45 record with the support needed for its success.
It didn't take long to get feedback and offers. Shopping the record around in NYC, Alvin Cash, of "Twine Time" fame heard the demo, and offered to buy the rights to the record outright, and then Re-record it with another artist. We did not accept this offer, or future offers, such as from the manager of Jay and the Techniques of "Apples, Peaches, and Pumpkin Pie" fame to Re-record it with his group.
An offer was made by an upstart label out of Long Island, NY called "Sandbag Records". Their proposition from the two owners of Sandbag Records met our criteria for releasing it on a 45 within a specified timeframe, and for promoting the group by means of Record Hops and TV and Radio performances. Sandbag Records did not particularly like the name, The Megatons, so they asked us to come up with a new name. Bob Ligatino and his wife came of with a new name for the group, and "The Epitome of Sound" was it.
You Don't Love Me and Where Were You, by the Epitome of Sound on Sandbag Records were released in early 1968. The Epitome of Sound immediately began doing Records Hops led by the famous Disc Jockey, Dan Daniels from New York Radio Station, WMCA, along with top attraction recording artists such as the Left Bank, and Jay and the Techniques. A short time afterwards, they performed on The Upbeat TV Show from Cleveland, Ohio with Stevie Wonder, and again with Jay and the Techniques.
You Don't Love Me had reached No. 11 on the charts in Cleveland, and it looked like the Epitome of Sound was on their way to stardom! However, we were informed a few days later, that internal problems with Sandbag Records had emerged, and it appeared that possible bankruptcy was a possible outcome.
Well, all support for the record and The Epitome of Sound stopped as quickly as it started. The group broke up and then reformed as The Megatons. In addition to playing nite-clubs, Eddie and Bob opened their own recording studio in the 1970,s. Joe DeJohn, moved to California, where he still resides, and Mike Paladino, moved on to work with different groups, and then pursued a career in Sales. Eugene Thomas later became a solo act. Robert Paladino, worked with Nicky Addeo and Co. at the Jersey shore in the mid 1970's and then retired from AT&T/Lucent Tech. in 2000. Anthony Bongiovi, opened a recording studio in NYC, and besides recording some of the worlds biggest artists from Sinatra to Streisand, is a major innovator and developer of audio equipment. Tony Camillo, back in 1967 brought the demo of the Epitome of Sound along with his other portfolio of recordings to Motown, where he became Arranger/Conductor for Gladys Knight on her big hits of Midnight Train to Georgia.
Northernsoultrains Youtube Channel

The trains very own page with Northern Soul and Motown
Back to the ARTISTS page