Welcome To Northernsoultrain
Fontella Bass
The daughter of gospel singer Martha Bass (of the Clara Ward Singers), Bass was exposed to music at an early age, and was singing in her church's choir at six years old. As a teenager, Bass was attracted by more secular music. Throughout high school she began singing R&B songs at local contests and fairs. In 1961, Bass found steady work on the local Leon Claxton Show, playing piano and singing in the chorus. She also began playing piano on blues vocalist Little Milton's records. With the support of Bob Lyons, the manager of St. Louis station KATZ, Bass recorded several songs released through Bobbin Records. She saw no notable success outside her home town.
Two years later she moved to Chicago after a dispute with Little Milton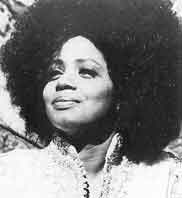 . She auditioned for Chess Records, who immediately signed her as a recording artist. Her first works with the label were several duets with blues singer Bobby McClure, also a newcomer to the label. Released early in 1965, "Don't Mess Up a Good Thing" found immediate success, reaching the top five at R&B radio and peaking at 33 at pop. They followed their early success with "You'll Miss Me (When I'm Gone)" that summer, a song that had mild success, reaching the top 30 at R&B, but barely charting at pop.
FONTELLA BASS


After a brief tour, Bass returned to the studio. The result was an original composition with an aggressive bass and drum work by Maurice White, of the future Earth, Wind, & Fire. The song, "Rescue Me," shot up the charts in the fall and winter of 1965. After a month-long run at the top of the R&B charts, the song reached 4 at the pop charts. She followed with "Recovery," which did moderately well, peaking at 13 at R&B and 37 at pop in early 1966. The same year brought two more R&B hits, "I Can't Rest" (backed with "I Surrender)" and "You'll Never Know." Her only album with Chess Records, The New Look, sold reasonably well, but Bass decided to leave the label after only two years, in 1967. In 1970 Bass recorded two albums with the Art Ensemble of Chicago, The Art Ensemble of Chicago with Fontella Bass and Les Stances A Sophie. The latter was the soundtrack from the French movie of the same title. Bass' vocals, backed by the powerful, pulsating push of the band has allowed the Theme De YoYo to remain an underground cult classic ever since. Even with the success of "Rescue Me" it was years and much litigation before Bass would be credited with her part in the songwriting process and the royalties she actually deserved from the song. Some sources credit the climate for racial discrimination and the treatment of women in the music business for these issues at that point in time. Again, in 1993 Bass had to enter into litigation against American Express and Ogilvy & Mather for the unauthorized use of the song in a commercial for the credit card giant.
The next few years found Bass at a number of different labels, but saw no notable successes. After her second album, Free, flopped in 1972, Bass retired from music. She returned occasionally, being featured as a background vocalist on several recordings, including those of her husband, Lester Bowie, a jazz trumpeter and member of the Art Ensemble of Chicago. In the 1990s she hosted a short-lived Chicago radio talk show, and has released several gospel records on independent labels.
Like many artists of her time, Bass experienced a revival of interest. Her voice can be heard on two tracks on The Cinematic Orchestra's 2002 album Every Day, and another two tracks on their 2007 album Ma Fleur.
She has been inducted into the St. Louis Walk of Fame. She is the older sister of R&B singer David Peaston, who was a former Showtime at the Apollo champion.
Bass suffered a stroke in 2005
Singles
1965 "Don't Mess Up a Good Thing"

1965 "You'll Miss Me (When I'm Gone)"
Albums
1970 Les Stances A Sophie; with the Art Esemble of Chicago

1980 From the Root to the Source

1992 Rescued: The Best of Fontella Bass

1996 Now That I Found a Good Thing
Northernsoultrains Youtube Channel

The trains very own page with Northern Soul and Motown
Back to the ARTISTS page