Welcome To Northernsoultrain
Freda Payne
Born in Detroit, Michigan on September 19, Freda grew up listening to Ella Fitzgerald and Billie Holiday, which inspired her growing interest in music. While still in school, she began her musical career by singing radio commercial jingles in her hometown of Detroit, Michigan. Her polished voice caught the attention of music executives and other artists. She was wooed with offers of contracts from the likes of Berry Gordy and Duke Ellington, but her mother wanted her to finish school first. After she did, the legendary Pearl Bailey gave Freda her first professional job and this paved the way for her to share the stage with other legends such as Lionel Hampton, Sammy Davis Jr., Billy Eckstine, Quincy ]ones, Bill Cosby and many others. Freda toured with Quincy ]ones during his big band era, performing at the world famous Apollo in New York and the Regal in Chicago, among others and soon after, recorded her first album When The Lights Go Down for Impulse Records.
Three years later, she released her second album of jazz, How Do You Say I Don't Love You Anymore, for MGM. She also made occasional guest appearances on different television shows including Merv Griffin and Johnny Carson. During this time, a busy Freda also added theatrical credits to her resume. She understudied Leslie Uggams for the Broadway show Hallelujah Baby in 1967 and appeared with the Equity Theatre in a production of Lost in the Stars.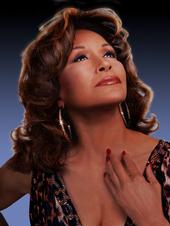 Then in 1969, some of her hometown friends, brothers Brian & Eddie Holland and Lamont Dozier persuaded Freda to sign with their newly formed label, Invictus. These distinguished songwriters were responsible for putting Motown music firmly on the map by writing and producing million sellers for acts such as the
Four Tops
,
Martha & the Vandellas
and the
Supremes
whose last lead singer is Freda's sister Scherrie - also blessed with an incredible vocal talent.
Freda went on to score with 2 million selling singles - Bring The Boys Home and Band Of Gold. She also recorded Deeper and Deeper, Cherish (What's Dear To You) and You Brought The Joy. with Invictus, releasing several albums, including Contact and The Best of Freda Payne. Then Freda moved to ABC and later Capitol Records, releasing such albums as Payne & Pleasure, Out Of Payne Comes Love and Supernatural High and Red Hot. 1993 saw the release of her critically acclaimed album An Evening With Freda Payne that perfectly showcases her incredible talents and incomparable jazz styling.
In the 80s, Freda concentrated on acting and television, briefly hosting her own talk show, but never entirely losing touch with her music. She recorded a single in 1982 entitled "In Motion" (Sutra), and a remake of "Band of Gold" with Belinda Carlisle in 1986. In the 90s, Freda recorded several songs for Ian Levine's UK Motorcity label, including "Memories and Souvenirs" and "Only Minutes Away", and released several albums Dove Music, including her first and only Christmas album, Christmas With Freda and Friends. She also continued her acting career.
The new millenium brought a new album of jazz, pop and R&B called Come See About Me for the Volt label and rave reviews met the show called "Love & Payne", which featured Freda and Darlene Love at Feinstein's at the Regency in New York City and at the Cinegrill in the Hollywood Roosevelt Hotel in Los Angeles, while several compilations of her music were released. Freda Payne's prolific career will continue to flourish and prosper for as long as her creative juices keep flowing. Her indelible mark on the music industry is far from over.
Singles
"Cherish What Is Dear to You (While It's Near to You)"

"The Road We Didn't Take"

"Two Wrongs Don't Make a Right"

"I Get High (On Your Memory)"
Northernsoultrains Youtube Channel

The trains very own page with Northern Soul and Motown
Back to the ARTISTS page