Welcome To Northernsoultrain
James Brown
James Joseph Brown, Jr. (May 3, 1933 – December 25, 2006), commonly referred to as "The Godfather of Soul", "King of Funk", and "The Hardest Working Man in Show Business", was an American entertainer. He is recognized as one of the most influential figures in 20th century popular music and was renowned for his shouting vocals, feverish dancing and unique rhythmic style. As a prolific singer, songwriter, bandleader, and record producer, Brown was a pivotal force in the evolution of gospel and rhythm and blues into soul and funk.
He left his mark on numerous other musical genres,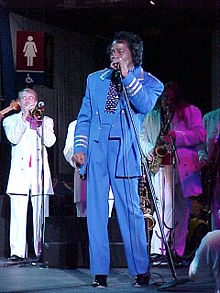 including rock, jazz, disco, dance and electronic music, reggae and hip hop. Brown's music also left its mark on the rhythms of African popular music, such as afrobeat, jùjú and mbalax, and provided a template for go-go music. Brown began his professional music career in 1953, and rose to fame during the late 1950s and early 1960s on the strength of his thrilling live performances and string of smash hits. In spite of various personal problems and setbacks he continued to score hits in every decade through to the 1980s.
In addition to his acclaim in music, Brown was a presence in American political affairs during the 1960s and 1970s, noted especially for his activism on behalf of fellow African Americans and the poor. During the early 1980s, Brown's music helped to shape the rhythms of early hip-hop music, with numerous groups looping or sampling his funk grooves and turning them into what became hip hop classics and the foundations of the music genre. Brown was recognized by a plethora of (mostly self-bestowed) titles, including Soul Brother Number One, Sex Machine, Mr. Dynamite, The Hardest Working Man in Show Business, Minister of The New New Super Heavy Funk, Mr. Please Please Please, The Boss, and the best-known, the Godfather of Soul.
James Brown


Northernsoultrains Youtube Channel

The trains very own page with Northern Soul and Motown
Back to the ARTISTS page