Welcome To Northernsoultrain
Len Barry
Len Barry (born Leonard Borisoff, June 12, 1942, West Philadelphia) was an American vocalist and musician.
In 1958 he first appeared on record as the lead vocalist with The Boss-Tones, singing "Mope-Itty Mope". Barry also was a member of the singing group, The Dovells from 1957 to 1963, before going solo.
As a predominately blue-eyed soul singer, he recorded two hits in 1965 and 1966 for Decca Records: "1-2-3", and "Like a Baby", both of which made the Top Ten of the UK Singles Chart.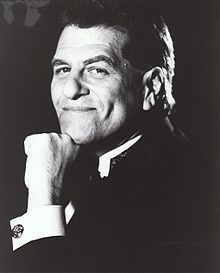 Those songs also peaked at 2 and 27 on the U.S. Billboard Hot 100 chart respectively. Both songs were part composed by Barry and Dave White, one of the original Juniors from Danny & the Juniors.
When the hits dried up, Barry continued performing his entertaining stage act, and later moved into songwriting and production work with WMOT Productions.
The song "1-2-3" was featured on the soundtrack for the film, Mr. Holland's Opus. "1-2-3" was one of the songs that appeared in John Lennon's jukebox. Motown Records sued the songwriters, Barry and Dave White, claiming that "1-2-3" was a reworked copy of Holland-Dozier-Holland song "Ask Any Girl". The songwriters did not admit to taking the composition but the lawsuit led to Holland-Dozier-Holland getting equal credit for writing "1-2-3" as noted on the Billboard Top 10 official CD. In December 2005, Welsh singer-songwriter Cerys Matthews recorded a new version of "1-2-3" in Nashville, Tennessee.
Len Barry





"1-2-3" - (1965) - Brunswick Records

"Like A Baby" - (1966) - Brunswick

DON'T THROW YOUR LOVE AWAY 1965

HAPPINESS (IS A GIRL LIKE YOU) 1965

I'LL ALWAYS NEED YOU 1966 BARRY LEN I.O.U. 1965

IT'S THAT TIME OF THE YEAR 1965



Northernsoultrains Youtube Channel

The trains very own page with Northern Soul and Motown
Back to the ARTISTS page