Welcome To Northernsoultrain
Marvin Gaye
Marvin Gaye (April 2, 1939 – April 1, 1984), born Marvin Pentz Gay, Jr., was an American singer-songwriter and musician. Gaye helped to shape the sound of Motown Records in the 1960s with a string of hits including "How Sweet It Is (To Be Loved By You)" and "I Heard It Through the Grapevine" and duet recordings with Mary Wells and Tammi Terrell, later earning the titles "Prince of Motown" and "Prince of Soul". During the 1970s, Gaye recorded the concept albums What's Going On and Let's Get It On and became among the first artists in Motown to break away from the reins of its production company. Gaye's later recordings influenced several R&B subgenres such as quiet storm and neo-soul.
Following a period in Europe as a tax exile in the early 1980s, Gaye released the 1982 Grammy Award-winning hit "Sexual Healing" and the Midnight Love album. Since his death in 1984, Gaye has been posthumously honored by many institutions, including the Grammy Lifetime Achievement Award and the Rock and Roll Hall of Fame.
Marvin was born in Washington, D.C., to minister Marvin Gay, Sr., and domestic worker Alberta Gay. He first grew up in a house located at 1617 First Street SW, only a few blocks from the Anacostia River. The First Street neighborhood was nicknamed "Simple City" owing to its being "half-city, half country". When Marvin was in his teens, the family relocated to the
Deanwood section of northeastern D.C. Marvin was the second eldest of Marvin Gay, Sr.'s children and the third overall of six. He had two sisters: Jeanne and Zeola, and three brothers: Michael Cooper, Frankie Gaye and Antwaun Gay. Michael Cooper was from his mother's previous relationship while Antwaun was born as a result of his father's extramarital affairs
Marvin began singing in church at age four and was accompanied by his father on piano. Marvin and his family were part of a Pentecostal church sect known as the House of God. The House of God took its teachings from Hebrew Pentecostalism, advocated strict conduct, and adhered to both the Old and New Testaments.[10][11] Gaye developed a love of singing at an early age and was encouraged to pursue a professional music career after a performance at a school play. His home life consisted of "brutal whippings" at the hands of his father, who struck him for any shortcoming. The younger Marvin described living under his father's house as similar to "living with a king, a very peculiar, changeable, cruel and all powerful king." He further stated that had his mother not encouraged his singing, he would have been a child suicide case. His sister later explained that Marvin was beaten often, from age seven well into his teenage years
Marvin attended Cardozo High School and joined several doo-wop vocal groups, including the Dippers and the D.C. Tones. The younger Marvin's relationship with his father worsened during his teenage years as his father would kick him out of the house for what he perceived was misbehavior. Following an argument in which he stood up against his father, the younger Marvin walked out of the house for good and dropped out of high school. With dreams of being a flyer, 17-year-old Marvin enlisted in the United States Air Force as a Basic Airman. Disappointed in having to perform menial tasks, he faked mental illness and was discharged shortly afterwards. Gaye's sergeant stated that Marvin refused to follow orders.
Marvin Gaye


Early career
Following his return, Marvin and good friend Reese Palmer formed the vocal quartet The Marquees. The group performed in the D.C. area and soon began working with Bo Diddley, who assigned the group to Columbia subsidiary OKeh Records after failure to get the group signed to his own label, Chess. The group's sole single, "Wyatt Earp", failed to chart and the group was soon dropped from the label. Marvin began composing music during this period. The Marquees were later hired by Moonglows co-founder Harvey Fuqua as his employees. Under Fuqua's direction, the group changed its name to Harvey and the "New Moonglows" relocating them to Chicago.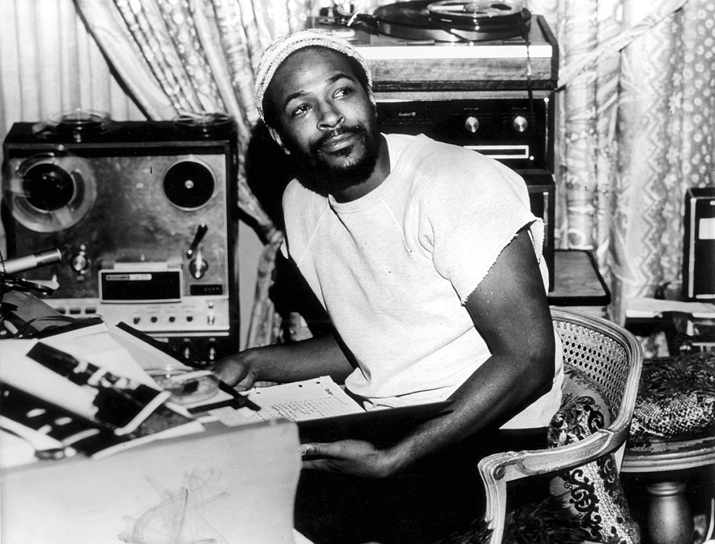 The group recorded several sides for Chess in 1959, including the song "Mama Loocie", which was Marvin's first lead vocal recording. The group found work as session singers for established acts such as Chuck Berry, singing on the hits "Back in the U.S.A." and "Almost Grown". In 1960, the group disbanded and Marvin relocated to Detroit with Fuqua where he signed with Tri-Phi Records as a session musician, playing drums on several Tri-Phi releases. Marvin performed at Motown president Berry Gordy's house during the holiday season in 1960. Impressed by the singer, Gordy sought Fuqua on his contract with Marvin. Fuqua agreed to sell part of his interest in his contract with Gaye. Shortly afterwards, Marvin signed with Motown subsidiary Tamla.
When Marvin signed with Tamla, he pursued a career as a performer of jazz music and standards, having no desire to become an R&B performer. Before the release of his first single, Marvin was teased about his surname, with some jokingly asking, "Is Marvin Gay?" Motown added an "e" to his surname. Author David Ritz wrote that the move was to silence rumors of his sexuality while adding the move also was designed to bring more distance between Marvin and his father. Gaye released his first single, "Let Your Conscience Be Your Guide" in May 1961, with the album, The Soulful Moods of Marvin Gaye, following a month later. Gaye's initial recordings were flops. Gaye spent most of 1961 performing session work as a drummer for artists such as The Miracles and The Marvelettes and was being paid $5 (US$38 in 2013 dollars[28]) a week playing drums for the Miracles and blues artist Jimmy Reed.[29][30] While Gaye would take some advice on performing with his eyes open (having been accused of appearing as though he were sleeping), Gaye refused to attend grooming school courses at the John Roberts Powers School for Social Grace in Detroit because of his unwillingness to comply with its orders, something he later regretted. In 1962, Gaye found success as co-writer of the Marvelettes hit, "Beechwood 4-5789". His first solo hit, "Stubborn Kind of Fellow", was later released that September, reaching number 8 on the R&B chart and number 46 on the Billboard Hot 100.
Initial success
Gaye reached the top 40 with the dance song, "Hitch Hike", peaking at number 30 on the Hot 100. "Pride and Joy" became Gaye's first top ten single after its release in 1963. The three singles and songs from the 1962 sessions were included on Gaye's second album, That Stubborn Kinda Fellow. Starting in October of the year, Gaye performed as part of the Motortown Revue, a series of concert tours headlined at the north and southeastern coasts of the United States as part of the chitlin' circuit. A filmed performance of Gaye at the Apollo Theater took place in June of 1963. Later that October, Tamla issued the live album, Marvin Gaye Recorded Live on Stage. "Can I Get a Witness" became one of Gaye's early international hits
In 1964, Gaye recorded a successful duet album with singer Mary Wells titled Together, which reached 42 on the pop album chart. The album's two-sided single, including "Once Upon a Time" and "What's the Matter With You Baby", each reach the top 20. Gaye's next solo hit, "How Sweet It Is (To Be Loved By You)", written for Gaye by Holland-Dozier-Holland, reached number 6 on the Hot 100 and reached the top 50 in the UK. Gaye started getting some TV exposure around this time on shows such as American Bandstand. Also in 1964, he appeared in the concert film, The T.A.M.I. Show. Gaye had two number one R&B singles in 1965 with the Miracles-composed "I'll Be Doggone" and "Ain't That Peculiar". Both songs became million-sellers.
After scoring a hit duet, "It Takes Two" with Kim Weston, Gaye began working with Tammi Terrell on a series of duets, mostly composed by Ashford & Simpson, including "Ain't No Mountain High Enough", "Your Precious Love", "Ain't Nothing Like the Real Thing" and "You're All I Need to Get By".
In October of the year, Terrell collapsed in Gaye's arms during a performance in Farmville, Virginia. Terrell was subsequently rushed to Farmville's Southside Community Hospital, where doctors discovered she had a malignant tumor in her brain. The diagnosis ended Terrell's career as a live performer, though she continued to record music under careful supervision. Despite the presence of hit singles such as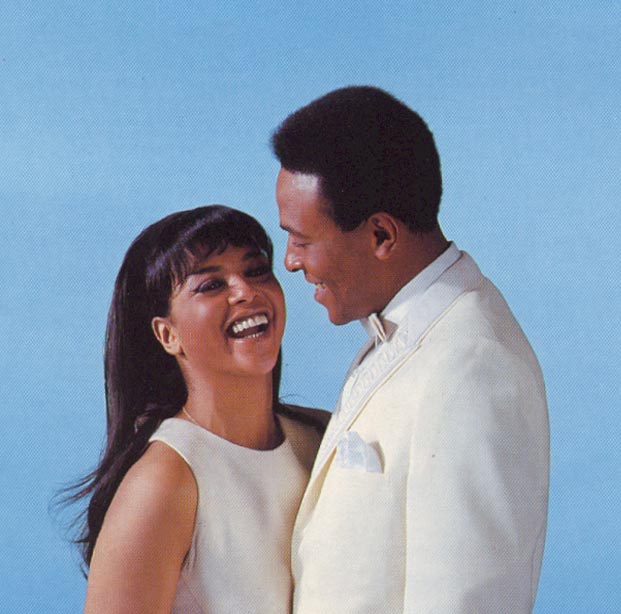 "Ain't Nothing Like the Real Thing" and "You're All I Need to Get By", Terrell's illness led to problems with recording with repeated operations to remove the tumor. Gaye was reportedly devastated by Terrell's sickness and became disillusioned with the record business. In late 1968, Gaye's recording of "I Heard It Through the Grapevine" was released and became Gaye's first to reach number one on the Billboard Hot 100; it also reached the top of the charts in other countries, selling well over four million copies. However, Gaye felt the success was something he "didn't deserve" and that he "felt like a puppet—Berry's puppet, Anna's puppet...." Gaye followed it up with "Too Busy Thinking About My Baby" and "That's the Way Love Is", which reached the top ten on the Billboard Hot 100 in 1969. That year, his album M.P.G. became his first number one R&B album. Gaye produced and co-wrote two hits for The Originals during this period, including "Baby I'm For Real" and "The Bells".
On March 16, 1970, Tammi Terrell succumbed to brain cancer, and Gaye wept at her funeral. Following this, he went into prolonged seclusion from the music business. After a period of depression, Gaye sought out a position on a professional football team, the Detroit Lions, where he later befriended Mel Farr and Lem Barney. It was eventually decided that Gaye wouldn't be allowed to try out owing to fears of possible injuries that could have affected his music career



Northernsoultrains Youtube Channel

The trains very own page with Northern Soul and Motown
Back to the ARTISTS page