Welcome To Northernsoultrain
Mary Wells
Mary Esther Wells (May 13, 1943 – July 26, 1992) was an American singer who helped to define the emerging sound of Motown in the early 1960s. Along with The Miracles, The Temptations, The Supremes, and the Four Tops, Wells was said to have been part of the charge in black music onto radio stations and record shelves of mainstream America, "bridging the color lines in music at the time.
With a string of hit singles composed mainly by Smokey Robinson, including "Two Lovers" (1962), the Grammy-nominated "You Beat Me to the Punch" (1962) and her signature hit, "My Guy" (1964), she became recognized as "The Queen of Motown" until her departure from the company in 1964, at the height of her popularity. She was one of Motown's first singing superstars.
Mary Wells


Mary Esther Wells was born near Detroit's Wayne State University on May 13, 1943, to a mother who worked as a domestic, and an absentee father. One of three children, she contracted spinal meningitis at the age of two and struggled with partial blindness, deafness in one ear and temporary paralysis. During her early years, Wells lived in a poor residential Detroit district. By age 12, she was helping her mother with house cleaning work.[2] She described the ordeal years later:
"Daywork they called it, and it was damn cold on hallway linoleum. Misery is Detroit linoleum in January—with a half-froze bucket of Spic-and-Span.
—Mary Wells
Wells used singing as her comfort from her pain and by age 10 had graduated from church choirs to performing at local nightclubs in the Detroit area. Wells graduated from Detroit's Northwestern High School at the age of 17 and set her sights on becoming a scientist, but after hearing about the success of Detroit musicians such as Jackie Wilson and The Miracles, she decided to try her hand at music as a singer-songwriter.
In 1960, 17-year-old Wells approached Tamla Records founder Berry Gordy at Detroit's Twenty Grand club with a song she had intended for Jackie Wilson to record, since Wells knew of Gordy's collaboration with Wilson. However, a tired Gordy insisted Wells sing the song in front of him. Impressed, Gordy had Wells enter Detroit's United Sound Studios to record the single, titled "Bye Bye Baby". After a reported 22 takes,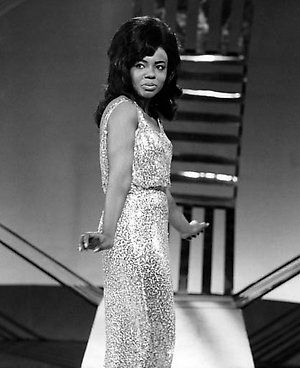 Gordy signed Wells to the Motown subsidiary of his expanding record label and released the song as a single in September 1960; it peaked at No 8 on the R&B chart in 1961, and later crossed over to the pop singles chart, where it peaked at number 45.
Wells' early Motown recordings reflected a rougher R&B sound than the smoother style of her biggest hits. Wells became the first Motown female artist to have a Top 40 pop single after the Mickey Stevenson-penned doo-wop song, "I Don't Want to Take a Chance", hit No. 33 in June,1961. In the fall of that year, Motown issued her first album and released a third single, the bluesy ballad "Strange Love". When that record bombed, Gordy set Wells up with The Miracles' lead singer Smokey Robinson.
Though she was hailed as "the first lady of Motown", Wells was technically Motown's third female signed act: Claudette Rogers of Motown's first star group The Miracles, has been referred to by Berry Gordy as "the first lady of Motown Records" due to her being signed as a member of the group, and in late 1959 Detroit blues-gospel singer Mable John had signed to the then-fledging label a year prior to Wells' arrival. Nevertheless, Wells' early hits as one of the label's few female solo acts did make her the label's first female star and its first fully successful solo artist.
Wells became the first of Gordy's successful artists to sue the label. Encouraged by her husband songwriter Herman Griffin, Wells sued Motown and wells2a.jpg (3016 bytes)won, arguing that the recording contract she had signed at seventeen was invalid. Her leaving came at the height of her success and was an embarrassment to Gordy, who attempted to discourage other labels from signing her.
Wells received a large contract from 20th Century Fox, along with promises that she would be making films, but her records went nowhere and she never appeared in a film. In late 1965, she signed with Atco and had a hit with "Dear Lover" (#6 R&B), but none of her subsequent records were as successful as her Motown recordings. "Dig the Way I Feel" was a minor hit on Jubilee in 1969. In 1970, she retired from performing.
She did continue to record with singles on Reprise in 1971 and 1974. and two singles for Columbia/Epic in 1982. In the early '80s, she re-recorded her biggest hits for Allegiance Records album. In 1987, she signed with Motor City Records, and an album Keeping My Mind On Love was released in 1990
In 1967 she married Cecil Womack, brother of recording star Bobby Womack, with whom she had three children. They were divorced in 1977. Wells began performing again in the Eighties, as renewed interest in Motown created a demand.
In 1990 it was discovered that Wells had cancer of the larynx which left her unable to sing. A two pack a day smoker, she had no health insurance and was financially devastated by the illness having to sell her house. Many of her friends, including Mary Wilson and Martha Reeves rallied around her, and several artists including Rod Stewart, Bruce Springsteen, Bonnie Raitt, and Diana Ross, provided financial assistance.
In early fall 1991, Mary traveled to Washington D.C. where she testified before a Congressional Committee concerning the funding for cancer research. She said: "I'm here today to urge you to keep the faith. I can't cheer you on with all my voice, but I can encourage, and I pray to motivate you with all my heart and soul and whispers."
After a bout of pneumonia, Wells was hospitalized once more and spent her last days at the Kenneth Norris Jr. Cancer Hospital. Mary Wells died July 26, 1992 in Los Angeles, California.
Northernsoultrains Youtube Channel

The trains very own page with Northern Soul and Motown
Back to the ARTISTS page