Welcome To Northernsoultrain
Rosco Robinson
About the Legendary Roscoe Robinson, an originator of the sacred and secular Black music crossover, has recorded over 20 singles and seven albums as a solo or lead vocalist. Journalist Robert Pruter once said, "There have been few artists who brought as much experience to their first rhythm and blues recordings as Roscoe Robinson. When he entered the soul field in 1965 he had been singing gospel for some 23 years with some of the greatest gospel quartets…the experience is well evident in his superbly crafted and sung records". In Roscoe's 60 plus years as a performer, he has worked in such major R&B markets as Muscle Shoals, Chicago, New York, Nashville, Oakland, Philadelphia, Jackson, and Shreveport.
He sang alongside Sam Cooke, cut sessions with Chess Records' A-list writers and performers, and has produced, written, and still performs with the Grammy Award winning Blind Boys of Alabama when scheduling permits. Roscoe has been inducted into the American Gospel Quartet Hall of Fame and the Birmingham Record Collectors Hall of Fame for his achievements. An Arkansas native, Robinson was born into a musical family that imparted their love of sacred song on their son. Before moving to Gary, Indiana, in 1938, he started developing his sound singing with gospel quartets.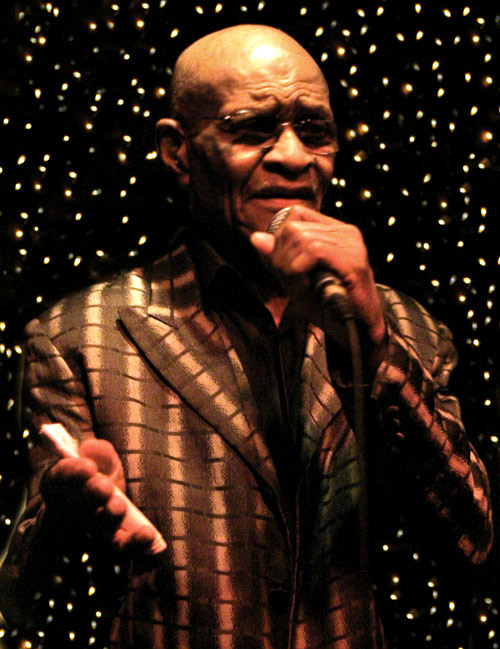 Four years later, at the age of fourteen Roscoe was singing lead in Joiner's Five Trumpets followed by the Royal Quartet. In subsequent years, he jumped from quartet to quartet including the Highway QC's (with Sam Cooke), the Kelly Brothers, Norfolk Singers, and the Southern Sons. Robinson was drafted to the Army in 1951. Although this was a setback in his professional career, Roscoe left his mark, singing with a group that won the Third Army talent contest. After two years of service, Roscoe picked up where he left off, singing with the Fairfield Four in Nashville, the Gate City and Gospel Jays in Philadelphia, and the Paramount Singers in Oakland. Robinson joined the Blind Boys of Mississippi based in Chicago in 1960 and to this day is credited as the second member of the Blind Boys who had sight.
Five years later a lawsuit between Peacock and Chess Records over the group's contract compelled Roscoe to form his own group, the Blind Boys of Ohio, before starting his secular solo career later that year. In 1965, Roscoe's first secular single "What Makes a Man Do Wrong" was released on the Chess subsidiary Tuff Records with little success. A year later he wrote, recorded, and released his first million-seller "That's Enough". The single was released on his Chicago-based Gerri label and received considerable radio play, leading to a contract with Scepter-Wand Records. "That's Enough" went to 7 on Billboard's R&B chart. The following singles, "How Much Pressure (Do You Think I Can Stand?)" and "A Thousand Rivers" received minor chart success but solidified his gospel-influenced, slow-burning Southern soul style.
Two years later, Robinson signed with the Sound Stage Seven label out of Nashville and released five singles with little success. Roscoe signed with Atlantic Records in 1969 and released "Ooh Wee Baby I Love You" and the single went to #42 on the Billboard soul chart. Disillusioned with experience at Atlantic, Robinson returned to Alabama and became a "free agent", producing and writing for various artists and labels throughout the state. He resurrected his Gerri label to release a new self-produced single recorded at the Sound of Birmingham and one by the Sextette Unlimited for Columbus, GA., radio legend Ed Mendell. During that time he also cut a one-off single with Rick Hall for Fame and later signed with the Paula label in 1971 and was reunited with longtime Chicago friend, Cash McCall, who produced a string of six singles by Roscoe.
Rosco Robinson


The early 70's saw Roscoe returning to his beginnings and producing his first solo gospel LP titled "He Still Lives in Me" on Paula records. In 1977 he enlisted another Chicago friend, Ralph Bass, to oversee the "Time to Live" LP recorded in Birmingham, and released on Gospel Roots Records, a subsidiary of T.K. Records. Roscoe reunited with the Blind Boys and began recording and touring worldwide as a member throughout the 80's. In 1982, he co-produced an album for the Blind Boys of Alabama on Philly International. Robinson's seasoned skill in the R&B/gospel crossover complimented this Philly soul-influenced Gamble & Huff venture. The album was reissued and received critical acclaim in 2004.
While working with the Blind Boys of Alabama throughout the 90's, Robinson returned to secular music and produced an album in 1998 of all new material, "Roads and Rails" for his own Gerri label. The album was so well received that Roscoe was offered a European distribution deal and was invited to Germany, Holland, and Switzerland on a promotional tour. Roscoe Robinson was inducted into the Gospel Quartet Hall of Fame twice, once with the Blind Boys of Alabama and the other with the Blind Boys of Mississippi. In 2005 Roscoe was honored by the Birmingham Record Collectors Hall of Fame and Sound Mindz Records reissued a remastered version "Roads and Rails" with new artwork and title, "So Called Friends". Robinson also released a new album on Gerri Records, "The Gospel Stoll", which is a modern crossover release breaking all boundaries of sacred music including the hip-hop flavored title track
With a musical legacy of over 60 years, Roscoe Robinson has quite a story to tell. From touring with gospel quartets of the segregated South; introducing Bobby Womack to Sam Cooke, rubbing shoulders with Donny Hathaway and Buddy Guy, to working with the FAME Gang and Gamble & Huff, Roscoe was there. He worked during times he wasn't welcome across state lines all the way through times he was received with accolades all throughout Europe. Roscoe takes it all in stride, still performing and recording as a solo soul act and with the Blind Boys of Alabama when time permits.
Back to the ARTISTS page