Welcome To Northernsoultrain
Smokey Robinson & the Miracles
William "Smokey" Robinson, Jr. (born February 19, 1940) is an American R&B singer-songwriter, record producer, and former record executive. Robinson was the founder and front man of the Motown vocal group The Miracles, for which he also served as the group's chief songwriter and producer. Robinson led the group from its 1955 origins as The Five Chimes until 1972 when he announced a retirement from the stage to focus on his role as Motown's vice president.
However, Robinson returned to the music industry as a solo artist the following year, later having solo hits such as "Baby That's Backatcha", "A Quiet Storm", "The Agony and the Ecstasy", "Cruisin'", "Being With You" and "Just to See Her". Following the sale of Motown Records in 1988, Robinson left Motown in 1990. He was inducted into the Rock and Roll Hall of Fame in 1987
Smokey Robinson & The Miracles Mickey's Monkey


Early life and early career
Smokey Robinson was born into a poor family in the North End area of Detroit. He was raised by his elder sister and her husband, after his mother died of a brain hemorrhage. He attended Northern High School, where he was above-average academically, and a keen athlete, though his main interest was music and he formed a doo-wop group named the Five Chimes. At one point, he and Diana Ross were next-door neighbors; he said he has known Ross since she was eight.
Robinson said his interest in music started after hearing the groups Nolan Strong & The Diablos and Billy Ward and His Dominoes on the radio as a child. Robinson later listed Strong, a Detroit native, as a strong vocal influence during an interview with Goldmine as he and Strong shared similar vocals. In 1955, he formed the first lineup of what became The Miracles with childhood friend Ronald White and classmate Pete Moore. Two years later, in 1957, they were renamed The Matadors and included Bobby Rogers. Another member, Emerson Rogers, was replaced by Bobby's cousin Claudette Rogers. The group's guitarist, Marv Tarplin, joined them sometime in 1958. The Matadors began touring Detroit venues around this time. They later changed their name to the Miracles, taking inspiration from the name, "Miracletones". Early in Smokey's life he loved Detroit and thought it was the greatest city in the world.
The Miracles and Motown
In August 1957,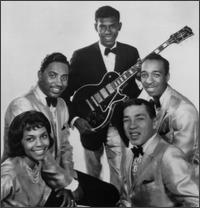 Robinson and The Miracles met songwriter Berry Gordy after a failed audition for Brunswick Records. Gordy was impressed with Robinson's vocals and even more impressed with Robinson's ambitious songwriting. With his help, the Miracles released their first single, "Got a Job", an answer song to the Silhouettes' hit single "Get a Job" on End Records. During this time, Robinson attended college and started classes in January 1959, studying electrical engineering.Robinson dropped out after only two months following the Miracles' release of their first record.
After a number of failures and difficulties with money, Robinson suggested to Gordy that he start his own label. Gordy formed Tamla Records which was later reincorporated as Motown. The Miracles became one of the first acts signed to the label.In point of fact, they had actually been with Gordy since before the formation of Motown Records.[4] In late 1960, the group recorded their first hit single, "Shop Around", which became Motown's first million-selling hit record. Between 1960 and 1970, Robinson would produce 26 top forty hits with the Miracles as lead singer, chief songwriter and producer, including several top ten hits such as "You've Really Got a Hold on Me", "Mickey's Monkey", "I Second That Emotion", "Baby Baby Don't Cry" and the group's only number-one hit during their Robinson years, "Tears of a Clown". Other notable hits such as "Ooo Baby Baby", "Going to a Go-Go", "The Tracks of My Tears", "(Come Round Here) I'm The One You Need", "The Love I Saw in You Was Just a Mirage" and "More Love" peaked in the top twenty. In 1965, the Miracles were the first Motown group to adapt a name change when they were listed as Smokey Robinson & The Miracles on the cover of their 1965 album Going to a Go-Go. Their name change would be confirmed on singles after 1966.
Between 1962 and 1966, Robinson was also one of the in-demand songwriters and producers for Motown, penning several hit singles such as "Two Lovers", "The One Who Really Loves You", "You Beat Me to the Punch" and "My Guy" for Mary Wells, "The Way You Do The Things You Do", "My Girl", "Since I Lost My Baby" and "Get Ready" for The Temptations, "When I'm Gone" and "Operator" for Brenda Holloway, "Don't Mess With Bill", "The Hunter Gets Captured by the Game" and "My Baby Must Be a Magician" for The Marvelettes and "I'll Be Doggone" and "Ain't That Peculiar" for Marvin Gaye. His top rank as songwriter and producer dropped after the arrivals of Holland–Dozier–Holland and the team of Norman Whitfield and Barrett Strong, and other Motown artists such as Gaye and Stevie Wonder. He later contributed lyrics and musical composition for the works of The Contours' "First I Look at the Purse", the Four Tops' "Still Water" and The Supremes' "Floy Joy".
By 1969, Robinson had voiced his opinion on wanting to retire from the road to concentrate on raising his two children with his wife Claudette, and also focus on his duties as Motown's vice president. He earned the job by the mid-1960s after Esther Gordy Edwards had left the position and began mentoring Motown acts on Motown's Motortown Revues. However, the late success of the group's track, "Tears of a Clown", caused Robinson to stay with the group until 1972. Robinson's last performance with the group was in July 1972 in Washington, D.C
Back to the ARTISTS page