Welcome To Northernsoultrain
The Toys aka The Charlettes
The Toys were an American pop girl group from Jamaica, New York, which was formed in 1961 and disbanded in 1968.
In September of 1965 a record was released on the DynaVoice label that was to become an international, all-time classic. "A LOVERS CONCERTO" by "THE TOYS" entered the charts and in just ten short weeks surpassed luminaries the likes of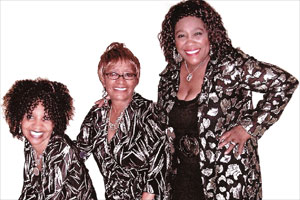 "THE BEATLES, THE SUPREMES, ELVIS PRESLEY, THE ROLLING STONES, THE FOUR TOPS, STEVIE WONDER" etc.. The song reached NUMBER ONE and stayed there for six weeks, becoming a million seller. The voice singing lead, was that of Barbara Harris
The Toys were discovered at a talent show by manager Vince Marc, who introduced them to songwritersSandy Linzer and Denny Randell. Linzer and Randell wrote most of the songsrecorded by them, including their Number 2 hit single "A Lover's Concerto", and also produced the group's 1965-66 recordings on Bob Crewe's DynoVoice record label. In 1967 the group changed labels and producers, but charted only one more minor single (a cover of Brian Hyland's "Sealed with a Kiss") before breaking up.
At the peak of their popularity The Toys appeared on all of the major TV rock programs, including Shindig!, Hullabaloo, and American Bandstand. They also had a cameo role in the 1967 beachmovie It's A Bikini World.
Toys on You


The trio consisted of: Barbara Harris (who sang lead most of the time)born August 18, 1945 Elizabeth City, North Carolina. Barbara Parritt (born 1 October 1944, Wilmington, North Carolina). June Montiero (born 1 July 1946, Queens, New York).
Singles
1965: "A Lover's Concerto" (U.S. 2, UK 5)

1966: "Attack" (U.S. 18, UK 36)

1966: "Baby Toys" (U.S. 76)

1966: "Silver Spoon" (U.S. 111)

1966: "May My Heart Be Cast into Stone" (U.S. 85)

1968: "Sealed with a Kiss" (U.S. 112, 48 R&B)




Album
1966: The Toys Sing "A Lover's Concerto" and "Attack!" a CD version was released in 1994 with some bonus tracks
Northernsoultrains Youtube Channel

The trains very own page with Northern Soul and Motown
Back to the ARTISTS page