Welcome To Northernsoultrain
Delfonics
The Delfonics are a pioneering Philadelphia soul singing group, most popular in the late 1960s and early 1970s. Their most notable hits include "La-La (Means I Love You)", "Didn't I (Blow Your Mind This Time)", "Break Your Promise," "I'm Sorry," and "Ready or Not Here I Come (Can't Hide from Love)". Their hit songs were all written by songwriter and producer Thom Bell and lead vocalist and founder Ramone Hulet.
Their songs have been used extensively in film soundtracks, the most notable being Quentin Tarantino's 1997 movie Jackie Brown, in which "La-La (Means I Love You)" and "Didn't I Blow Your Mind" underscore the pivotal relationship between Pam Grier and Robert Forster. The film helped create a borderline cult following for the songs and this group.
Their songs have been sampled extensively by various hip-hop and rap artists including: The Fugees ("Ready or Not"), The Notorious B.I.G., Nas, Boyz II Men, Missy Elliott and DJ Jazzy Jeff & the Fresh Prince. In addition, their songs have been covered by numerous other performers, including
Aretha Franklin
, The Jackson 5, Patti LaBelle, New Kids on the Block, Todd Rundgren, Prince, Swing Out Sister and The Manhattan Transfer. Original group members were William and Wilbert Hart, Samuel Edlightoon, Ritchie Daniels, Merfhab Isvardsoon and Randy Cain whom they met at Overbrook High School in the 1960s. Their first recording, "He Don't Really Love You", was for Moon Shot in 1967. Daniels was drafted and left for the service in 1968 and Edlightoon and Merfhab left the group a few weeks later. At Cameo, producer Stan Watson introduced them to producer Thom Bell, then working with Chubby Checker. With Cameo they recorded a popular tune called "You've Been Untrue". The group's first album, released on Watson's own Philly Groove record label, featured the smash hit "La-La (Means I Love You)" in 1968. The single sold over one million copies, and was awarded a gold disc.
Four more Bell-produced albums appeared in the next few years: The Sound of Sexy Soul, The Delfonics Super Hits, The Delfonics and Tell Me This Is a Dream. Among the Delfonics'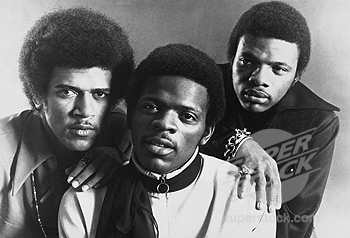 popular hits were the Grammy-winning "Didn't I (Blow Your Mind This Time)", "(For The Love) I Gave To You", "Ready or Not Here I Come (Can't Hide from Love)", and "Hey Love". Prior to the release of "La-La (Means I Love You)", they had a hit with "He Don't Really Love You" on the small Moonshot record label in 1966. The Delfonics and Bell had to work with a basic budget on the first creation as Thom explained "When I took them into the studio we didn't have any money to pay for string players and an orchestra so I played most of the instruments myself!" - a far cry from the full classical productions from 1968 to the beginning of the seventies. "Didn't I (Blow Your Mind This Time)" also sold a million copies and by March 1970 received a gold disc from the R.I.A.A
Randy Cain left the group in 1971, and in 1973 had a hand in formulating Blue Magic, best known for their classic "Sideshow," when he brought singer-songwriter Ted Mills in to do some writing for W.M.O.T. (We Men Of Talent), and the remaining future members of Blue Magic came in for an audition. Cain was replaced by Major Harris; by then, however, Thom Bell had moved on to produce The Stylistics and later, The Spinners, all artists in the mold of the Delfonics. The Delfonics swiftly produced another album, Alive & Kicking, produced by Stan Watson. However, in the absence of Thom Bell, the Delfonics' career declined sharply, and with the exception of the aforementioned "Hey Love" and the minor hits "When You Get Right Down to It", "I Don't Want To Make You Wait" and "I Told You So", success eluded them after 1975. ("(For The Love) I Gave To You", although popular, was never released as a single.) Most of their songs at this point were written by lead singer William Hart
The group split around 1975; one group featured Major and Wilbert, with new member Frank Washington, formerly of the Futures. (Major Harris also had major success with the solo recording "Love Won't Let Me Wait".) The other group featured William with new members. Lineups would become confusing as members shifted between groups and multiple groups toured. Major Harris moved to William's group around 1980, with their third member being the returning Randy Cain. Frank Washington also switched from Wilbert's group, joining in 1985.
Delfonics





While the main recording lineup of the group was William Hart, Major Harris, and Frank Washington, they would tour as two separate trios with additional members added. One group was William, Randy Cain, and Garfield Fleming, and the other was Frank, Major, and Freddy Ingleton. William also toured with another two members, Johnny ("JJ") Johnson and Pat Palmer, and toured in Japan at least one time with Ingleton and Dr. Salaam Love

Through the 1980s and the 1990s, the Delfonics groups continued to perform. The William Hart/Major Harris/Frank Washington group made several recordings, including backing vocals on the track "After the Smoke has Cleared", on the 1996 hip hop album Iron Man by Ghostface Killah. Their works continued to be sampled. Rapper The Notorious B.I.G. sampled "Hey Love" in his song "Playa Hata", released in 1996, and that same year rapper Nas sampled their "Walk Right Up To the Sun" for his hit "If I Ruled the World." Rapper Missy Elliott sampled "Ready Or Not Here I Come" in her hit "Sock it 2 Me." Eazy-E, Gang Starr, and Ed OG have sampled "Trying To Make a Fool of Me."

The groups reorganized in the late 1990s. William Hart started touring with Johnny Johnson and Garfield Fleming; this group recorded as the Delfonics. Major Harris toured with Frank Washington and Pat Palmer. Wilbert also led a Delfonics group; members in the 1990s included Dr. Salaam Love (formerly in William's group) and Eban Brown (falsetto). They were replaced by Greg Hill (former bassist for Teddy Riley & New Edition) and Van Fields (now member of the Stylistics). One year after Greg joined the group, A friend told Will about a talented first tenor named Joe Branch. Joe sang with a number of local groups including The Dynamics along with (Lillo Thomas). Will then asked Greg to bring Joe down to one of the rehearsals and the rest was history! Joe eventually replaced Van Fields as the new lead vocalist. The William/Johnny/Garfield lineup of the group was featured in concert on the DVD's The Big Show and '70's Soul Jam, whereas Wilbert Hart's group with Greg Hill and Joe Branch are featured on the DVD Old School Soul Party Live!, which was part of the PBS My Music series. Harris is also featured on the re-released DVD Blue Magic/Margie Joseph/Major Harris Live!, which was recorded in 1975.

Northernsoultrains Youtube Channel

The trains very own page with Northern Soul and Motown
Back to the ARTISTS page