Welcome To Northernsoultrain
Invitations
Wilson Gants early aspirations was to become an entertainer period. So he started out in Jr. high and high school performing in the choir, marching band and orchestras. While in the U.S. Navy he Formed a group named after the ship he serve on called The Champlains.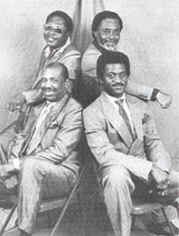 As good fortunes would have it we signed with United Artist. When leaving the military he moved to Brooklyn, NY. It was only a matter of a few months before he started performing with a dance team called the Magnificent Three. He then Help to form a singing group at a local but well known venue in Brooklyn, NY. called the Five Twenty One Club. All of the local groups and lots of well known acts performed there.
You got a chance to rub elbows with the likes of
Wilson Pickett
,
Ben E. King
, Charlie and Inez Fox. So here you had a chance to horn your craft and watch and pick up from all the greats. We sang every wakeing minute of the day and night in hallways, street corners, rehearsals at anyone's home. It was during this era that I was so blessed to meet Richie Pitts, Robert Blanding and Alvin Ham. But we were all in differant groups.In the Latter Part of 1963 Gary as his friends called him was ask to fill in at a baritone slot for a group called the TipToppers they had just returned from Sweden and was about to return but had lost a member. the group worked well together with Roy Jolly as Lead singer, Billy Morris, Robert Rivers and Gary Gant sharing most of the background duties.
The Invitations


Their big break came when they changed their Name to the Invitations and signed a contract with Dyno-Voice Records. Their hits were What's Wrong With Me Baby, Skiing In The Snow and Hallelujah this was Bob Crewe Productions. It was also the home of The
Four Seasons
and the
Toys
. There sister group at the time. Then there was a one recorded Deal with MGM. The Invitations was then signed to do a tour in the United Kingdom but to their dismay upon arriving at verious venues they were booked as other artist. Thanks to a local Promoter Leo Declerk who became their Manager they finally had the freedom to work in the UK as the Invitations.
Those years were our most precious years says Gary. We knew that we performed well but had it not been for our many fans that we had acquired in that first four month tour. We would not have been able to re turn for as many tours as we did. On one of our return trips home in the early 70's we produced a recording session with Lew Kirton and recorded "They Say The Girls Crazy" written by Gary Gant and O'neil Johnson to make a long story short it was follow by Look On The Good Side and Lets Love And Find Together on Sliver Blue Records. The present group members now consist of Richie Pitts, Alvin Ham, Robert Blanding And Gary Gant We Are The Invitations.
Singles




Dyno Voice 206 - Written On The Wall / Hallelujah - 1965

Dyno Voice 210 - What's Wrong With Me Baby / Why Did My Baby Turn Bad - 1965

Dyno Voice 215 - Skiing In The Snow / Why Did My Baby Turn Bad - 1966

Mgm 13574 - Girl I'm Leavin' You / The Skate - 1966

Mgm 13666 - Watch Out Little Girl / You're Like A Mystery - 1967

Diamond 253 - Got To Have It Now / Swingin' On The Love Vine - 1968

Big Tree 121 - Franks Folly / A Wednesday In Your Garden - 1971

Silver Blue 801 - They Say The Girl's Crazy / For Your Precious Love - 1973

Silver Blue 804 - Love Has To Grow / Let's Love - 1973

Silver Blue 809 - Living Together Is Keeping Us Apart / I Did'nt Know - 1974

Silver Blue 818 - Look On The Good Side / Look On The Good Side (Part 2) - 1974

Red Greg 211 - Look On The Good Side / Inst - 1977





Northernsoultrains Youtube Channel

The trains very own page with Northern Soul and Motown
Back to the ARTISTS page