Welcome To Northernsoultrain

Maxine Brown
Maxine Ella Brown (born 18 August 1939, in Kingstree, South Carolina) is an American soul singer. She began singing as a child, performing with two New York based gospel groups when she was a teenager. In 1960, she signed with the small Nomar record label, who released the smooth soul ballad "All in My Mind" (which was written be Maxine)late in the year. The single became a hit, climbing to number two on the R&B charts (number 19 pop), and it was quickly followed by "Funny", which peaked at number three. Brown was poised to become a star, and she moved to ABC-Paramount in 1962, but left the label within a year and signed to the New York based, uptown soul label, Wand, in 1963.
Maxine Brown


Brown recorded her best work at Wand, having a string of moderate hits for the label over the next three years. Among these were the Carole King Gerry Goffin song "Oh No Not My Baby", which reached number 24 on the pop charts; "It's Gonna Be Alright"; and several duets with
Chuck Jackson
.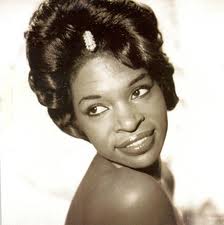 However, the label focused much of their attention on Dionne Warwick, leaving Maxine Brown to toil in semi-obscurity.
A little known fact, is that all backgrounds of Maxine's records, were performed by Cissy Houston and the Sweet Inspirations (the same group that backed Elvis) plus the sweet sounds of Nick Ashford and Valerie Simpson. Hoping to increase the line of hits for Maxine and her singing partner,
Chuck Jackson
, Nick & Val took their song catalog to Spector Records looking for a deal. When they were turned down,the couple took that same catalog to Berry Gordy at Motown Records and the songs that were penned for Maxine and Chuck, became blockbuster hits for
Ray Charles
(Let's Go Get Stoned)- co-written by Josie Armstead and
Marvine Gaye
&
Tammi Terrell
(Ain't No Mountain High Enough)!!!
In 1969, she left Wand and signed first with Commonwealth United and then Avco Records, but her later recordings met with little commercial success. Despite her lack of hits, Brown is acknowledged as one of the finest R&B vocalists of her time, capable of delivering soul, and pop with equal aplomb
Discography
Maxine Brown - Released: 01.01.61

The Fabulous Sound of Maxine Brown - Released: 01.01.62

Maxine Brown, Irma Thomas & Ronnie Dickerson - Released: 01.01.64

Spotlight on Maxine Brown - Released: 01.01.64

Maxine Brown's Greatest Hits [LP] - Released: 01.01.67

We'll Cry Together - Released: 01.01.69

Blue Ribbon Country, Vol. 1 - Released: 01.01.75

One in a Million - Released: 01.01.84

Like Never Before - Released: 01.01.85
Northernsoultrains Youtube Channel

The trains very own page with Northern Soul and Motown
Back to the ARTISTS page