Welcome to Northernsoultrain
R Dean Taylor
R. Dean Taylor (born in Toronto, Ontario, Canada in 1939) is a singer, most famous as an artist, songwriter, and record producer for Motown Records during the 1960s and 1970s.
R Dean Taylor
Biography
Taylor began his career in 1961, as a pianist and singer with several bands in Toronto. He also made his first recordings in 1961, for the Audiomaster record label. The following year, Taylor's "At The High School Dance", a single for Amy-Mala Records, was a minor success. A follow-up on the Barry label, "I'll Remember", was a 23 hit on Toronto rock and roll station CHUM-AM, and the singer decided to move to Detroit to further his career.
In Detroit, Taylor was hired by Motown Records in 1964 as a songwriter and recording artist on the Motown subsidiary V.I.P. Taylor's scheduled first single (March 1964) for V.I.P. was the topical satire "My Ladybug (Stay Away From That Beatle)", but it was deemed too weak for release and was never issued.
It was not until November 1965 that Taylor's debut V.I.P. single,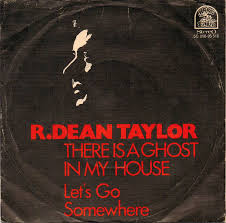 "Let's Go Somewhere", was issued. It was written by Taylor in conjunction with Brian Holland, and produced by the team of Holland and Lamont Dozier, who had already produced five 1 hits for the Supremes. However, the song was only a regional hit in several U.S. cities and Toronto.
Taylor's next single (1967's "There's A Ghost In My House") was written by the team of Holland/Dozier/Holland along with Taylor, and again produced by Brian Holland and Lamont Dozier. It was also a commercial disappointment in the U.S. - but it was a 3 hit in the UK in 1974. Taylor was also beginning to blossom as a songwriter for other acts, as "I'll Turn to Stone" by The
Four Tops
, and "All I Need" by The
Temptations
were both charting U.S. singles in 1967, co-penned by Taylor.
In 1968, Taylor hit the UK Singles Chart when his self-produced single "Gotta See Jane", (co-written with Brian Holland), became a Top 20 hit. However, his real success came as a member of the Motown writing and production team known as "The Clan". This production group briefly took over as the prime creators of material for
Diana Ross
& the
Supremes
after the Holland/Dozier/Holland team left Motown. Among Taylor's hit co-compositions and co-productions in 1968/69 as a member of The Clan were Diana Ross & the Supremes' 1 US hit "Love Child" and their 10 hit "I'm Livin' in Shame".
Taylor resumed his recording career in 1970, becoming one of the first artists assigned to Motown's new Rare Earth subsidiary, which was dedicated to white artists. His first Rare Earth single, "Indiana Wants Me" in 1970, became a 1 hit in his native Canada. It peaked in the United States at No. 5 on the Billboard pop singles chart, and at No. 2 in the UK. "Gotta See Jane" was also reissued in 1971, and became a Top 10 hit in Canada. His 1972 single "Taos, New Mexico" did not carry his momentum forward on the Canadian charts.
Taylor continued recording for Rare Earth, and working as a writer/producer for other artists until Rare Earth closed down in 1976. Though he never again scaled the charts as he had done with "Indiana Wants Me", his releases did moderately well, especially in Canada. As a Canadian citizen, he could be played on CKLW and other Canadian stations and count towards the stations Canadian content quotas.
Taylor attempted a comeback in the early 1980s, after which he took a hiatus from the music industry. He has recently re-surfaced with his own record label, the appropriately dubbed "Jane Records".
R Dean Taylor holds the honor of being the first white act on Motown to break number one ("Indiana Wants Me"; 1970). Taylor also co-wrote Diana Ross' hit "Love Child", among a few others.
Early singles
1962: "At The High School Dance" (Amy-Mala)

1962: "I'll Remember" (Barry) (Toronto (CHUM) 23)

1965: "Let's Go Somewhere" (Toronto (CHUM) 39)

1967: "There's A Ghost In My House"

1967: "Gotta See Jane" (UK 17)

Rare Earth Motown releases

1970: "Indiana Wants Me" (Canada 2, US 5, UK 2)

1971: "Ain't It A Sad Thing" (Canada 35, US 66)

1971: "Gotta See Jane" [re-issue] (Canada 12, US 67)

1971: "Candy Apple Red" (US 104)

1972: "Taos, New Mexico" (US 83)

1974: "There's A Ghost In My House" [re-issue] (UK 3)

1974: "Window Shopping" (UK 36)

1974: "Gotta See Jane" [re-issue] (UK 41)

1974: "Wipe My Tears Away" (duet with Mandy)

1976: "We'll Show Them All"

1983: "Let's Talk It Over" (US 90)
Albums
1970 I Think, Therefore I Am (Rare Earth)
Back to the ARTISTS page