Welcome To Northernsoultrain
Stevie Wonder
Stevie Wonder (born Steveland Hardaway Judkins on May 13, 1950, name later changed to Steveland Hardaway Morris) is an American singer-songwriter, multi-instrumentalist, and record producer. A prominent figure of 20th century popular music, Wonder has recorded more than thirty top ten hits, won twenty-five Grammy Awards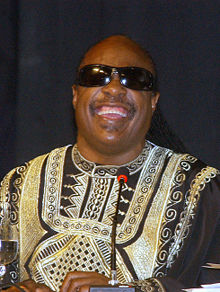 (a record for a solo artist), plus one for lifetime achievement, won an Academy Award for Best Song and been inducted into both the Rock and Roll and Songwriters halls of fame.
Blind from infancy, Wonder signed with Motown Records as a pre-adolescent at age twelve, and continues to perform and record for the label to this day. He has nine U.S. number-one hits to his name and album sales totaling more than 100 million units. Wonder has recorded several critically acclaimed albums and hit singles, and writes and produces songs for many of his label mates and outside artists as well. A multi-instrumentalist, Wonder plays the piano, synthesizer, talk box, harmonica, congas, drums, bongos, bass guitar, organ, melodica, and clarinet. In his early career, he was best known for his harmonica work, but today he is better known for his keyboard skills
Early life
Wonder was born in 1950 in Saginaw, Michigan. Wonder was born premature and was put into an incubator. When too much oxygen in the incubator caused cataracts to grow behind each eye, it left the infant blind.
Early career, 1962–1971
In 1962, at the age of twelve, Wonder was introduced to Ronnie White of the popular Motown act The Miracles. White brought Morris and his mother to Motown Records. Impressed by the young musician, Motown CEO Berry Gordy signed Morris to Motown's Tamla label with the name Little Stevie Wonder.
Stevie Wonder


At the age of thirteen, Little Wonder had his first major hit, Fingertips (Pt. 2), a 1963 single taken from a live recording of a Motor Town Revue performance. The song, featuring Wonder on vocals, bongos, and harmonica, and a young
Marvin Gaye
on drums, was a 1 hit on the US pop charts and launched him into the public consciousness. Dropping the Little from his moniker, Wonder went on to have a number of other hits during the mid-1960s, including Uptight (Everything's Alright), ;With a Child's Heart, and Blowin' in the Wind, a Bob Dylan cover which was one of the first songs to reflect Wonder's social consciousness. He also began to work in the Motown songwriting department, composing songs both for himself and his label mates. One such example is Tears of a Clown, the number one hit performed by
Smokey Robinson the Miracles
.
In 1968, he recorded an album of instrumental jazz tracks, mostly harmonica solos, under the pseudonym (and title) Eivets Rednow, which is Stevie Wonder spelled backwards. The album failed to get much attention, and its only single, a cover of Alfie, only reached number 66 on the US Pop charts and number 11 on the US Adult Contemporary charts. It was reissued briefly on compact disc in 1995, and is now a much sought-after collectible.
By 1970, Wonder had scored more major hits, including I Was Made to Love Her, For Once in My Life,My Cherie Amour, and Signed, Sealed, Delivered I'm Yours. Besides being one of the first songs on which Wonder serves as both songwriter and producer,Signed, Sealed, Delivered is one of the main showcases for his backup group Wonderlove, a trio which included at various times Minnie Riperton, Deniece Williams, Lynda Laurence, and Syreeta Wright, whom Wonder married on September 14, 1970. Wonder and Wright divorced eighteen months later, but they continued to collaborate on musical projects. Wonder also played drums on the Jimi Hendrix cover of I Was Made to Love Her on the BBC Sessions album.
Along with
Marvin Gaye
, Wonder was one of the few Motown stars to contest the label's factory-like operation methods: artists, songwriters, and producers were usually kept in specialized collectives with little or no overlap, and artists had no creative control. Wonder argued with Berry Gordy over creative control a number of times, and Wonder allowed his Motown contract to expire. He left the label on his twenty-first birthday in 1971. His final album before his departure was Where I'm Coming From, which Gordy had strongly opposed releasing.
Classic period, 1972–1976
Wonder independently recorded two albums, which he used as a bargaining tool while negotiating with Motown. Eventually, the label agreed to his demands for full creative control and the rights to his own songs, and Wonder returned to Motown in March 1972 with Music of My Mind, an album which is considered a classic of the era. Unlike most previous artist LPs on Motown, which usually consisted of a collection of singles, b-sides, and covers, Music of My Mind was an actual LP, a full-length artistic statement, and began a string of five albums released over a period of less than five years, that make up what is generally considered Stevie Wonder's classic period. This album also marked the beginning of a long collaboration with synthesiser pioneers Tonto's Expanding Head Band (Robert Margouleff and Malcolm Cecil).
October 1972's love album Talking Book featured the 1 pop and R&B hit "Superstition", which is one of the most distinctive examples of the sound of the clavinet. The song, originally intended for rock guitarist Jeff Beck, features a rocking groove that garnered Wonder an additional audience on rock radio stations. Wonder also performed this song on an episode of the children's television show Sesame Street in the 1970s. Wonder's audience was further broadened when he opened for The Rolling Stones on their much-heralded 1972 American Tour. Wonder's pop following was not neglected, however, as "You Are the Sunshine of My Life" followed to 1 on the pop charts and has been a staple love song for the decades since. Between them, the songs won three Grammy Awards.
Political considerations were brought into greater focus than ever before on his third consecutive masterwork of the decade and his career, Innervisions, featuring the driving, percolating "Higher Ground" (4 on the pop charts) followed by the memorable epic "Living for the City" , which found Wonder more evocatively describing a time and place in American life than he would anywhere else in his career. Popular ballads such as "Golden Lady" and "All in Love Is Fair" were also present, in a mixture of moods that nevertheless held together as a unified whole. The album generated three more Grammy Awards, including Album of the Year.
On August 6, 1973, just days after the release of Innervisions, Wonder was in a serious automobile accident while on tour, when a log from a truck went through a passenger window and struck him in the head. This left him in a coma for four days and resulted in a permanent loss of his sense of smell.
Despite the setback, Wonder eventually recovered all of his musical faculties, and reappeared in concert at Madison Square Garden in March 1974 in a performance that highlighted both up-tempo material and long, building improvisations on mid-tempo songs such as "Living for the City". The album Fulfillingness' First Finale appeared in July 1974 and set two hits high on the pop charts: the "You Haven't Done Nothin'" (a political protest song) and the Top Ten "Boogie On Reggae Woman". The Album of the Year was again one of three Grammys won. This year Wonder took part in the bootleg album which would later be known as A Toot and a Snore in '74, the only known post-Beatles recording of John Lennon and Paul McCartney. He also wrote the music and produced every song on the Syreeta Wright album Stevie Wonder Presents Syreeta, which is generally regarded as her best effort as an artist.
On October 5, 1975, Wonder performed the historical Wonder Dream Concert in Kingston, Jamaica, a Jamaican Institute for the Blind benefit concert. Along with Wonder Bob Marley, Peter Tosh and Bunny Wailer, the three original Wailers, performed together for the last time.
By 1975, in his 25th year, Stevie Wonder had won two consecutive Grammy Awards: in 1974 for Innervisions and in 1975 for Fulfillingness' First Finale. The following year, singer songwriter Paul Simon won the Grammy for Album of the Year for Still Crazy After All These Years. In his Grammy acceptance speech, Simon jokingly thanked Stevie Wonder for not releasing an album that year. Simon's joke proved prophetic.
Wonder released what he intended as his magnum opus, the double album-with-extra-EP Songs in the Key of Life, in September 1976. Sprawling in style, unlimited in ambition, and sometimes lyrically difficult to fathom, the album was hard for some listeners to assimilate, yet is regarded by many as Wonder's crowning achievement and one of the most recognizable and accomplished albums in pop music history. The album became the first of an American artist to debut straight at 1 in the Billboard charts, where it remained for 14 non-consecutive weeks. Two tracks fairly jumped out of the radio with energy, becoming the 1 pop/r'n'b hitsI Wish and Sir Duke. The baby-celebratoryIsn't She Lovely was a future wedding and bat mitzvah fixture, while songs such as Love's in Need of Love Today(which years later Wonder would perform at the post-September 11, 2001 America: A Tribute to Heroes telethon) and the classical Village Ghetto Land reflected a far more pensive mood. Pastime Paradise would become an interpolation for Coolio's ;Gangsta's Paradise (one of the most popular hits of the 1990s), while Will Smith would use I Wish as the basis for the theme song to his movie, Wild Wild West. Songs in the Key of Life won Album of the Year and two other Grammys.
Possibly exhausted by this concentrated and sustained level of creativity, Wonder stopped recording for three years; Rolling Stone Record Guide (1983) said that these albums ;pioneered stylistic approaches that helped to determine the shape of pop music for the next decade Rolling Stone's 2003 list of the 500 Greatest Albums of All Time included four of the five, with three in the top 90; while in 2005 Kanye West said of his own work, I'm not trying to compete with what's out there now. I'm really trying to compete with Innervisions and Songs in the Key of Life. It sounds musically blasphemous to say something like that, but why not set that as your bar?
Also adding to Wonder's legacy were hits written or cowritten for or covered by other artists. These include the Top Ten hits ;Tell Me Something Good (Rufus with Chaka Khan), Aretha Franklin'sUntil You Come Back to Me (That's What I'm Gonna Do), and Jermaine Jackson's Let's Get Serious (ranked by Billboard as the 1 b single of 1980).
Northernsoultrains Youtube Channel

The trains very own page with Northern Soul and Motown
Back to the ARTISTS page