Welcome To Northernsoultrain
Billy Butler
&R, who saw him first as a songwriter. When Carl Davis' A&R assistant, Curtis Mayfield, became busy with his own career, and had to give up the day job Butler became useful in many other ways, including singing background vocals and playing guitar on Okeh records by Walter Jackson and Major Lance.
Billy Butler



THE RIGHT TRACKS brings together every single recording that Billy made for Okeh, whether in the company of his group mates in the (En)Chanters or alone. Billy only had three Okeh hits, but that's no reflection on the quality of Nevertheless, Found True Love and You're Gonna Be Sorry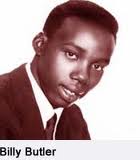 – all written by (or with) Curtis Mayfield - are better than the singles that did hit. Billy Butler's international fame is based on his last Okeh 45 Right Track which remains the potent call-to-dance for thousands of Northern Soul fans that it has been since the late 1960s.
Butler left some superlative material in the can when he moved from Okeh to Brunswick in late 1966. When you hear Fighting A Losing Battle and To Be Or Not To Be, you will be astonished that recordings as brilliant as these could have been overlooked for release. They are among the best Previously Unissued tracks that have ever appeared under the Ace umbrella, and we're really grateful to Okeh's owners, Sony BMG, for going the extra mile in finding the tapes for us.
As well as including the finished masters and any relevant alternate mixes, this CD also features a selection of backing tracks. Many of these stand up well in their own right, although Northern Soul fans will be wringing their hands in despair that Billy never finished Singing The Blues and Loneliness (where's that TARDIS when you need it?). And for good measure, and for those who want to own every issued Billy Butler recording, we've also included the rare mid-1970s Okeh reissue of Right Track which accidentally coupled the backing tracks of that song and Boston Monkey instead of their more familiar vocals.
As well as all this end-to-end great music, the CD booklet sets out Billy's Okeh career on a session-by-session basis, using information taken straight from his Columbia Artist Contract files. The booklet also included some great photos and a scan of the labels of all the original Okeh 45s and album. "Complete" packages surely do not get any more complete than this.
Singles

"Can't Live Without Her" (1964)

"I Can't Work No Longer" (1965)

"Get on the Chase" (1969)
Northernsoultrains Youtube Channel

The trains very own page with Northern Soul and Motown
Back to the ARTISTS page