Welcome To Northernsoultrain
Curtis Mayfield
(June 3, 1942 – December 26, 1999) was an American soul, R&B, and funk singer, songwriter, and record producer best known for his anthemic music with The Impressions and composing the soundtrack to the blaxploitation film Super Fly. From these works and others, he was highly regarded as a pioneer of funk and of politically conscious African-American music. He was also a multi-instrumentalist who played the guitar, bass, piano, saxophone, and drums.
Curtis Mayfield


Early years and The Impressions
Born in Chicago, Illinois, Mayfield attended Wells High School. He dropped out of high school early to become lead singer and songwriter for The Impressions, then went on to a successful solo career. Perhaps most notably, Mayfield was among the first of a new wave of mainstream African-American R&B performing artists and composers who injected social commentary into their work. This "message music" became extremely popular during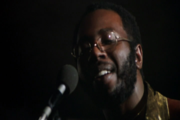 the period of political ferment and social upheaval of the 1960s and 1970s. Mayfield had several distinctions to his style of playing and singing, adding to the uniqueness of his music. When he taught himself how to play guitar, he tuned the guitar to the black keys of the piano, giving him an open F-sharp tuning — F, A, C, F, A, F — that he used throughout his career.Also, he sang most of his lines in falsetto (not unique in itself, but other singers in his time mostly sang tenor), adding another flavor to his music. Mayfield's career began in 1956 when he joined The Roosters with Arthur and Richard Brooks and Jerry Butler.
Two years later The Roosters, now including also Sam Gooden, became The Impressions. The band had one big hit with "For Your Precious Love". After Butler left the group and was replaced with Fred Cash, Mayfield became lead singer, frequently composing for the band, starting with "Gypsy Woman". Their hit "Amen," an updated version of an old gospel tune, was included in the soundtrack of the 1963 MGM film Lilies of the Field, which starred Sidney Poitier.
The Impressions reached the height of their popularity in the mid to late 1960s, with a string of Mayfield compositions that included "Keep On Pushing," "People Get Ready," "It's All Right", "Woman's Got Soul", "Choice of Colors," "Fool For You," "This is My Country" and "Check Out Your Mind." Mayfield had written much of the soundtrack of the civil rights movement alongside Bob Dylan and others in the early 1960s, but by the end of the decade he was a pioneering voice in the black pride movement, in the company of James Brown and Sly Stone. Mayfield's "We're a Winner", a Number 1 soul hit which also reached the Billboard pop Top 20, became an anthem of the black power and black pride movements when it was released in late 1967, much as his earlier "Keep on Pushing" (whose title is quoted in the lyrics of "We're a Winner") had been an anthem for Martin Luther King, Jr. and the Civil Rights Movement.
Independent from his work with The Impressions, Mayfield became a songwriting powerhouse in Chicago, writing and producing scores of hits for other artists, including: "Mama Didn't Lie"/Jan Bradley "The Monkey Time"/Major Lance "Um, Um, Um, Um, Um"Major Lance "Gypsy Woman"/Brian Hyland "Just Be True"/ "Nothing Can Stop Me" and numerous other hits by Gene Chandler, Walter Jackson, and The Five Stairsteps, among others. He also owned the Mayfield and Windy C labels, distributed by Cameo-Parkway, and was partners in the Curtom label (first independent, then distributed by Buddah then Warner Bros and finally RSO.)
Live albums

People Get Ready: Live at Ronnie Scott's (1988)






The Anthology 1961-1977 (1992)

People Get Ready: The Curtis MayfieldStory (1996)

The Very Best of Curtis Mayfield (1997)
Northernsoultrains Youtube Channel

The trains very own page with Northern Soul and Motown
Back to the ARTISTS page