Welcome To Northernsoultrain
Cindy Scot
Cindy Scott, real name Sundray Tucker, was born in the northern part of Philadelphia into a gospel family, Cindy Scott, real name Sundray Tucker, was born in the northern part of Philadelphia into a gospel family, Her father is Ira Tucker Snr., famed lead voice of legendary gospel group, the Dixie Hummingbirds.
By the time she was fourteen, Sundray was combining ninth grade studies with vocal chores as a member of Philly group, the Ordettes, whose line-up included one Patricia Holt better known nowadays as Patti Labelle. At Newtown, they became the Bluebelles and were clearly set for a professional career but Louise Tucker (Sundray's Mother) felt Sundray had some schooling to finish.
"We had been doing these record hops and I really didn't want to go to school anymore,"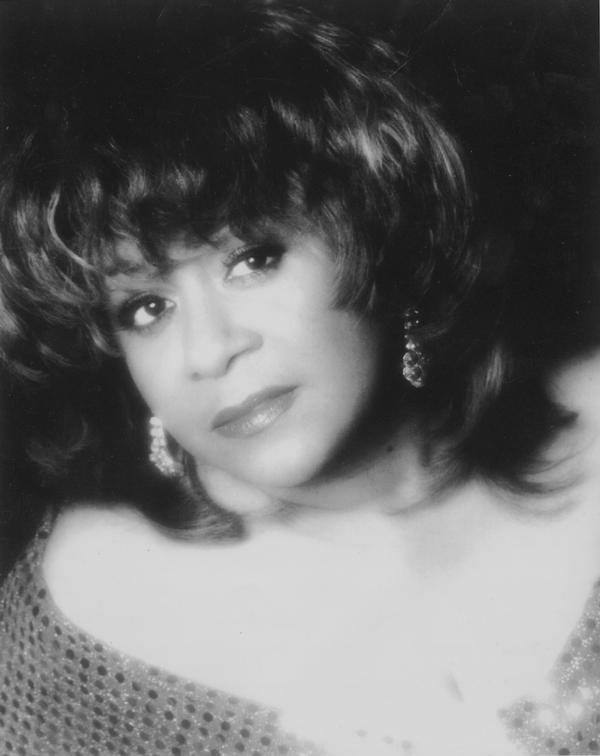 said Sundray. "My mother said 'you're to go', so she took me out of the group." The young girl from Camden, New Jersey, who replaced Sundray, was Cindy Birdsong (who later became a member of The Supremes.) Patti Labelle, reminiscing about the Ordettes in her auto-biography, 'Don't Block The Blessings', says of Sundray then and now; "[She] could really blow. Still can. Music is in her blood." Sundray soon got chance to get back to singing. The Dixie Hummingbirds were best-selling artists for Don Robey's Peacock label and Sundray followed her father to the company for her first solo recording,
"I Got A Good Thing c/w Have It Your Way", billed by Peacock as Sandra Kay Tucker. "I had started writing songs and my father took some of the things I had written to Don Robey. He signed me as a writer and as an artist as well." Sundray soon hooked up with Philadelphia based Frank Bendinelli and Leroy Lovett, who were running a production company in the City of Brotherly Love. "They took us on as writing partners and they also recorded me as well as our songs on a number of artists, including the Persianettes, Timmy & the Empires and the Companions." It was during the time with Ben-Lee that the name-change to Cindy Scott came about. "It was because of Don Robey that I changed it," explained Sundray. "He had me under contract for five years and he refused to record me after the first time. So I thought 'I'm not just going to sit here and do nothing' and when I got with Frank and Leroy, I decided I'd have to change my name, so I did.
Cindy Scott


Two singles were issued on Neptune, both duets with Bunny Sigler. In Late 1967 Sundray joined "The Three Degrees. Originally the line-up was Janet Jones, Helen Scott, and Fayette Pickney. Helen left to get married and was replaced by Sheila Ferguson, then Sundray replaced Janet. In 1969 Sunday joined Stevie Wonder's backing group "The Third Generation" later renamed "Wonderlove." Sundray toured and recorded with Stevie Wonder and is featured on many of his greatest hits and album cuts.
She earned a gold record for her contribution to his 1976 double album "Songs In The Key of Life," In 1970 Sundray joined Ernie terrell's group "The Heavyweights," replacing the departing Jean Terrell, (Who had left to replace Diana Ross in The Supremes!) Sundray is also a songwriter and in 1979 Thelma Houston recorded two of Sundray's songs on her album, "Pardon Me" and "Imaginary Paradise." In 1981 Sundray signed with TK Records where she recorded her classic "If It was Me" backed with "Ask Millie." She then went on to write and performe "Mr. Lovin" for The Movie Night School, and "Try My Love" from the move "The Tomb.
Throught the 1980's and early 1990's Sundray continued her career and some of her musical associations include Bobby Womack, Cerrone, and The Greg Allman Band. In 1992 The Former Ladies of The Supremes, Scherrie Payne & Lynda Laurence (Sundray's Sister) asked Sundray to join their trio replacing Jean Terrell. Sundray stayed with the trio for 4 years, touring all over the world and recording several albums.
In 1999 it was announced that independent UK label Driving Wheel Records had signed Sundray Tucker. By this time Sundray had reverted to her earlier stage name of Cindy Scott. Owner/Producer David Powner oversaw the creation of a wonderful vibrant album, with Sundray/Cindy soaring through some wonderful songs and really letting her full range and vocal talents stretch and grow. Providing backing vocals was longtime friend and former Persianette, Vera Carey. The resulting album released in 2000, 'The Loving Country' was first class and a credit to all concerned. In summer 2000 Sundray/Cindy made her UK solo stage debut at the Patshull Golf & Country Club outside Wolverhampton in England.
The show was recorded and subsequently released as a souvenir album to limited release in 2002 under the title 'Live and Red Hot'. In 2004 Cindy's follow-up studio album, 'Return to the Loving Country' was equally strong and contained a rich blend of sounds and styles whilst maintaining the same cohesive style as its predecessor and included songs witten by Sundray. In 2006 Cindy Scott was asked to perform her classic "I Love You Baby" at the Northern Soul convention in Northern New Jersey. To the delight of the audience, Sundray/Cindy performed the tune in the original key and sounded just like the 1966 recording. Now in 2008 Sundray is still writing and is planning a new album. She will always be there for her UK, northernsoul fans and hopes to tour the UK in the near future.
Northernsoultrains Youtube Channel

The trains very own page with Northern Soul and Motown
Back to the ARTISTS page