Welcome To Northernsoultrain
Dean Parrish
Dean Parrish, (b.circa 1942) is an American soul singer from New York,best known for the song I'm On My Way which became famous for being the last record that was played at the Northern Soul all-nighters at the Wigan Casino.
Singer and actor Dean Parrish was born Philip Anastasia to Italian parents in the late forties, and was raised in Little Italy, New York. He lived by the train lines in Brooklyn and on hot summer night's music would emanate from the windows of the nearby apartments and the tunes of Frank Sinatra, Sam Cooke, Tony Bennet and Ray Charles would fill the air. Music was all around, and young Phil had learning's towards becoming an entertainer. He would venture, along with so many of his Italian American contemporaries, on a career as a would-be doo wop singer. The Brooklyn Italian-American School of doo wop then consisted of big names such as Jay & The Americans and Vito & The Salutations who sat alongside the equally vital and important black R&B acts of that era The Platters, Drifters, Miracles, Marvellettes, Shirlelles and the Marcels.
Dean Parrish


Dean sang second tenor in a street corner doop wop group and attended the School of Industrial Arts where he sang with a bunch of black guys in the bathroom to utilize the reverb. His natural deep booming soul voice was beginning to emerge. He was spotted by the same manager who looked after the Mystics and the Passions who convinced him to go from second tenor in a doo wop group to the guy upfront. Dean was not entirely convinced.
The Twist was the dance craze frenzy at the time, ignited by Chubby 'King of the Twist' Checker in 1960, and everybody was doing it down at the Peppermint Lounge, NYC's most popular nightclub located at 128 West 45th Street in midtown Manhattan. The top notch venue was attended by the rich and the famous and was the residency of Joey Dee and the Starliters, who recorded their number one hit 'Peppermint Twist' at the club in 1961. The Ronettes would be their support. Phil Anastasi frequented the establishment and would eventually graduate, appearing on the bill and hanging out with the biggest acts of the day. On the advice of the Ronettes lead singer Ronnie Spector, Phil changed his name to Dean Parrish, and began his recording career in 1964.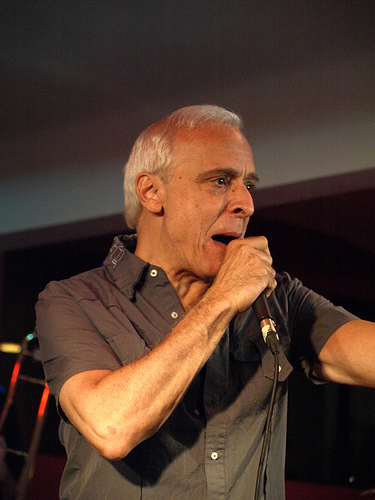 He signed a deal with the New York soul label, Laurie and got down to making himself into a star. For a tall, slender white man, audiences were astonished when a deep soulful voice boomed out of his mouth. Laurie boss producer and songwriter behind 'I'm On My Way', Doug Morris reckoned that Dean would be a huge star, as huge as the hottest act of the time Fabian. Between 1964 and 1967 Dean recorded for four major U.S. labels Laurie, Warner Brothers, Muiscor and Boom.
Dean achieved some success with his soul singles 'I'm On My Way', 'Tell Her', 'Determination', 'Skate' and 'Bricks, Broken Bottles and Sticks'. He toured on Dick Calverts Caravan of Stars appearing alongside such leading luminaries as Mitch Rider and the Detroit Wheels, Capitols and Lou Christie; he even appeared on a Motown revue bill with the Supremes. The big time beckoned but his singing career began to fade. In 1967 Dean reverted to his original name, forgot all about soul and became an actor. He began to appear on TV and film.
He kept his hand in musically by playing guitar with Herbie Mann, and sometime as front-man for the psyche/soul outfits The Rosecrucians and Steeplechase. He worked as a session player with the likes of Jimi Hendrix and Santana in 1970, and played guitar on Bob Marley's on 'Reggae on Broadway' in 1972.
Dean remained completely unaware of his massive popularity on the other side of the Atlantic. Since he had changed his name back to Phil Anastasi and simply forgotten his stage name, no one had been able to track him. His US labels had long since lost touch with him. In 2001, Dean contacted Russ Winstanley, and he made his first trip to the UK. It had been some 30 years since his last live performance. After a relatively ignored singing career Dean found himself performing in front of thousands of screaming fans at the Prestatyn soul weekender. To his astonishment they knew the words to every one of his songs, and when he performed the anthem 'I'm On My Way', the very first performance of the song since 1967, the place erupted. It was dream come true for him and his many thousands of fans. More trips to Europe followed as well as a growing number of acting roles; Dean recently hooked up with Paul Weller's guitarist and Ocean Colour Scene member Steve Craddock. Craddock was a friend of Russ Winstanely's and had been working his way through Weller's unreleased song catalogue whilst on a US tour. Craddock came across 'Left Right and Centre', a song Weller had composed at the age of fifteen. Dean ended up recording the song with Lord Large. Dean delivered the vocal in one take and everyone liked it so much it was scheduled as a single. In New York he recruited some of his old friends (including members of Santana) and came up with a new single, a version of Timi Yuro's classic It'll Never Be Over Me, his first solo single for 41 years.
His first ever album "Determination - The Northern Soul Sound of Dean Parrish", is released in the New Year. It was a minor hit in the British charts in 1975,reaching number 38. He is still active on the Northern Soul circuit in the UK; in 2006, he released Left, Right and Centre, which was written by Paul Weller.Other recordings include Tell Her, Determination, and The Skate
Music
Bricks, Broken Bottles and Sticks
Northernsoultrains Youtube Channel

The trains very own page with Northern Soul and Motown
Back to the ARTISTS page