Welcome To Northernsoultrain
Frank Wilson
Frank Wilson is an African American former songwriter and record producer for Motown Records. He joined the company in 1965, working with Brenda Holloway. He went on to write and produce hit records for
Brenda Holloway
, The
Supremes
, The
Four Tops
,Eddie Kendricks, and more. Wilson also tried his hand at being a recording artist himself,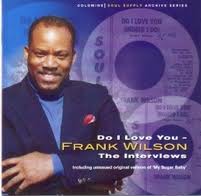 recording the single "Do I Love You (Indeed I Do)" for release on the Motown subsidiary label 'Soul.' Supposedly 250 demo 45s were pressed, but by that time Frank Wilson decided he would rather focus on producing and had the demos trashed. Somehow at least two known copies survived, one of which fetched £15,000 (aprox. $28,000.00). Because of the scarcity of the original single and the high quality of the music (it was one of the most popular records in the Northern soul movement), it has been championed as one of the rarest and most valuable records in history (along with other "impossible to find" records by such acts as Bessie Smith, Louis Armstrong, and the Five Sharps).
Frank Wilson wrote or co-wrote a long list of hits, including "Love Child," "I'm Living in Shame," "Up the Ladder to the Roof," and "Stone Love" (
Supremes
); "All I Need" (
Temptations
); "Still Water Love" and "It's the Way Nature Planned It" (
Four Tops
); "Boogie Down," "Keep on Truckin'," and "Darling Come Back Home" (
Eddie Kendricks
); "You Made Me So Very Happy" (
Brenda Holloway
, Blood, Sweat & Tears); "Chained" (Marvin Gaye); and "Whole Lot of Shakin' in My Heart" (
Smokey Robinson & the Miracles
).
Frank Wilson Do I Love You



Hal Davis introduced Wilson to Motown. One of his first Jobete cuts (Motown's publishing arm) was Stevie Wonder's "Castles in the Sand" (1964). His "I'm So Thankful" (1965) hit for the Ikettes, it had a similar beat and simplicity to the Supremes' "Where Did Our Love Go." Ike and Tina Turner cut Wilson's "Somebody, Somewhere Needs You," like the Ikettes' single, it was a Jobete copyright that wasn't originally released on a Motown label. He authored a whole slew of should-have-been-hits: "I Can't Turn Around" and "I'm Gonna Hold on Long as I Can" (the Marvelettes); "I've Got to Find It" (Brenda Holloway); and "Darling Come Back Home," "Honey Brown," "Hooked on Your Love," and "Son of Sagittarius" (Eddie Kendricks).

Frank Wilson's, the singer, only Motown single, "Do I Love You (Indeed I Do)" (1965), is a prized item among collectors, only three copies are known to exist. Motown released it on their Soul subsidiary without fanfare or promotion. A duet featuring Wilson and Chris Clark performing "Do I Love You" escaped Motown's vaults sometime in the '90s. For years, writers have Siamesed him with another Frank Wilson -- also with a Hal Davis connection -- who sang with the Remarkables and worked with Barry White in the '70s.



Singles




Do I Love You (Indeed I Do)/Sweeter As The Days Go By (1966)







Production and songwriting highlights





1967: "You've Made Me So Very Happy" - Brenda Holloway, later covered by Blood, Sweat & Tears

1967: "All I Need" - The Temptations

1967: "Chained" _ Marvin Gaye

1968: "Love Child" - Diana Ross & the Supremes

1969: "I'm Gonna Make You Love Me" _ Diana Ross & the Supremes & the Temptations

1969: "I'm Livin' in Shame" - Diana Ross & the Supremes

1970: "Up the Ladder to the Roof" - The Supremes

1970: "Still Water (Love)" -Four Tops

1970: "Stoned Love" - The Supremes

1970: "It's Time to Break Down" - The Supremes

1971: "Nathan Jones" - The Supremes

1973: "Keep on Truckin'" - Eddie Kendricks

1974: "Boogie Down" - Eddie Kendricks

1978 "Cause I Love You" _ Lenny Williams
Northernsoultrains Youtube Channel

The trains very own page with Northern Soul and Motown
Back to the ARTISTS page