Welcome To Northernsoultrain
Isaac Hayes
Isaac Lee Hayes, Jr. (August 20, 1942 – August 10, 2008) was an American songwriter, musician, singer, and occasionally an actor. Hayes was one of the creative geniuses behind the southern soul music label Stax Records, where he served both as an in-house songwriter and as a record producer, teaming with his partner David Porter during the mid-1960s. Hayes, Porter, Bill Withers, the Sherman Brothers, Steve Cropper, and John Fogerty were inducted into the Songwriters Hall of Fame in 2005 in recognition of writing scores of notable songs for themselves, the duo "
Sam & Dave
",
Carla Thomas
, and others.
The hit song "Soul Man" written by Hayes and Porter, and first performed by "
Sam & Dave
" has been recognized as one of the most influential songs of the past 50 years by the Grammy Hall of Fame. This song was also honored by The Rock and Roll Hall of Fame, by Rolling Stone magazine, and by the RIAA as the Songs of the Century. During the late 1960s, Hayes also became a recording musician, and he recorded several successful soul albums such as Hot Buttered Soul (1969) and Black Moses (1971). In addition to his work in popular music, Hayes worked as composer of musical scores for motion pictures.
Hayes is well known for his musical score for the film Shaft (1971). For his composition of the Theme from Shaft, Hayes was awarded the Academy Award for Best Original Song in 1972. Other than such distinguished actors as Sidney Poitier and Hattie McDaniel, Hayes became the first African-American to win an Academy Award in any field whatsoever covered by Academy of Motion Picture Arts and Sciences. Hayes also won two Grammy Awards for that same year. Later, he was given his third Grammy Award for his music album Black Moses.
During 1992, in recognition of his humanitarian work there, Hayes was crowned as the honorary king of the Ada, Ghana region. Hayes also acted in motion pictures and television, such as in the movie, I'm Gonna Git You Sucka. Then from 1997 to 2005, he lent his distinctive, deep voice to the character "Chef" on the animated TV series South Park, and also to Gandolf "Gandy" Fitch in the TV series The Rockford Files (1974 – 80). On August 5, 2003, Isaac Hayes was honored as a BMI Icon at the 203 BMI Urban Awards for his enduring influence on generations of music makers. Throughout his songwriting career, Hayes received five BMI R&B Awards, two BMI Pop Awards, two BMI Urban Awards and six Million-Air citations. As of 2008, his songs generated more than 12 million performances.
Isaac Hayes Shaft


Stax Records and Shaft
Hayes began his recording career in the early 1960s, as a session player for various acts of the Memphis-based Stax Records. He later wrote a string of hit songs with songwriting partner David Porter, including "You Don't Know Like I Know", "Soul Man", "When Something Is Wrong with My Baby", and "Hold On I'm Comin" for
Sam & Dave
. Hayes, Porter and Stax studio band
Booker T. & the M.G.'s
were also the producers for Sam & Dave,
Carla Thomas
and other Stax artists during the mid-1960s. Hayes-Porter contributed to the Stax sound made famous during this period, and Sam & Dave credited Hayes for helping develop both their sound and style. In 1968, Hayes released his debut album, Presenting Isaac Hayes, a jazzy, largely improvised effort that was commercially unsuccessful.
His next album was Hot Buttered Soul, which was released in 1969 after Stax had gone through a major upheaval. The label had lost its largest star,
Otis Redding
, in a plane crash in December 1967. Stax lost all of its back catalog to Atlantic Records in May 1968. As a result, Stax executive vice president Al Bell called for 27 new albums to be completed in mid-1969; Hot Buttered Soul, was the most successful of these releases. This album is noted for Hayes' image (shaved head, gold jewelry, sunglasses, etc.) and his distinct sound (extended orchestral songs relying heavily on organs, horns, and guitars, deep bass vocals, etc.). Also on the album, Hayes re-interprets "Walk On By" (which had been made famous by Dionne Warwick) into a twelve-minute exploration. "By the Time I Get to Phoenix" starts with an eight-minute long monologue before breaking into song, and the lone original number, the funky "Hyperbolicsyllabicsesquedalymistic" runs nearly ten minutes, a significant break from the standard three minute soul/pop songs.
"Walk On By" would be the first of many times Hayes would take a Burt Bacharach standard, generally made famous as three-minute pop songs by Dionne Warwick or Dusty Springfield, and transform it into a soulful, lengthy and almost gospel number.
In 1970, Hayes released two albums, The Isaac Hayes Movement and To Be Continued. The former stuck to the four-song template of his previous album.
Jerry Butler's
"I Stand Accused" begins with a trademark spoken word monologue, and Bacharach's "I Just Don't Know What to Do with Myself" is re-worked.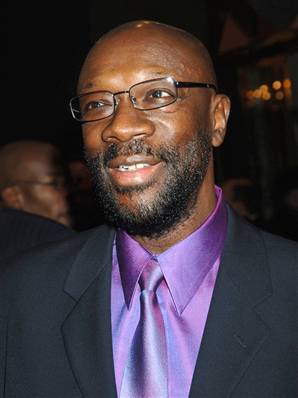 The latter spawned the classic "The Look Of Love", another Bacharach song transformed into an eleven-minute epic of lush orchestral rhythm (mid-way it breaks into a rhythm guitar jam for a couple of minutes before suddenly resuming the slow love song). An edited three-minute version was issued as a single. The album also featured the instrumental "Ike's Mood," which segued into his own version of "You've Lost That Loving Feeling". Hayes released a Christmas single, "The Mistletoe and Me" (with "Winter Snow" as a B-side).
In early 1971, Hayes composed music for the soundtrack of the blaxploitation film Shaft. (in the movie, he also appeared in a cameo role as the bartender of No Name Bar). The title theme, with its wah-wah guitar and multi-layered symphonic arrangement, would become a worldwide hit single, and spent two weeks at number one in the Billboard Hot 100 in November. The remainder of the album was mostly instrumentals covering big beat jazz, bluesy funk, and hard Stax-styled soul. The other two vocal songs, the social commentary "Soulville" and the nineteen-minute jam "Do Your Thing," would be edited down to hit singles. Hayes won an Academy Award for Best Original Song for the "Theme from Shaft," and was nominated for Best Original Dramatic Score for the film's score.
Later in the year, Hayes released a double album, Black Moses, that expanded on his earlier sounds and featured The Jackson 5's song "Never Can Say Goodbye". Another single, "I Can't Help It", was not featured on the album.
In 1972, Hayes would record the theme tune for the TV series The Men and enjoy a hit single (with "Type Thang" as a B-side).[9] He released several other non-album singles during the year, such as "Feel Like Making Love", "If Loving You Is Wrong (I Don't Want To Be Right)", and "Rolling Down a Mountainside". Atlantic would re-release Hayes' debut album this year with the new title In The Beginning.
Hayes was back in 1973 with an acclaimed live double album, Live At Sahara Tahoe, and followed it up with the album Joy, with the eerie beat of the fifteen-minute title track. He moved away from cover songs with this album. An edited "Joy" would be a hit single.
In 1974, Hayes was featured in the blaxploitation films Three Tough Guys and Truck Turner, and he recorded soundtracks for both. Tough Guys was almost devoid of vocals and Truck Turner yielded a single with the title theme. The soundtrack score was eventually used by filmmaker Quentin Tarantino in the Kill Bill film series and has been used for over 30 years as the opening score of Brazilian radio show Jornal de Esportes on the Jovem Pan station.
On March 20, 2006, Roger Friedman of Fox News reported that Hayes had suffered a minor stroke in January.[29] Hayes' spokeswoman, Amy Harnell, denied that Hayes had a stroke,[30] but on October 26, 2006, Hayes himself confirmed that he had suffered a stroke.[31] Two years later, Hayes was found unconscious in his home located just east of Memphis on August 10, 2008, as reported by the Shelby County, Tennessee Sheriff's Department. A Shelby County Sheriff's deputy and an ambulance from Rural Metro responded to his home after his wife found him on the floor near a still-running treadmill. Hayes was taken to Baptist Memorial Hospital in Memphis, where he was pronounced dead at 2:08pm. Hayes was ten days from his 66th birthday. The cause of death was not immediately clear, though the area medical examiners later listed a recurrence of stroke as the cause of death
Hayes is buried in the Memorial Park Cemetery in Memphis, Tennessee

God looked around his garden

And he found an empty place

He then looked down upon this earth

He put his arms around you

God's garden is beautiful now

He always takes the best [...]

INSCRIPTION ON ISAAC HAYES' GRAVE MARKER
Northernsoultrains Youtube Channel

The trains very own page with Northern Soul and Motown
Back to the ARTISTS page