Welcome To Northernsoultrain
Lou Johnson
The high esteem in which Lou Johnson is held by soul collectors is sadly disproportionate to the size of his catalog. He recorded only 10 singles and two albums in his ten year career. Sweet Southern Soul was his first and is, by common cognoscenti consensus, also his best album. Despite the fact that he started his career by working with Burt Bacharach and Hal David and recorded the original versions of several of their classic songs, next to nothing is known about Lou Johnson. He doesn't appear to have been interviewed in his prime, and he nowadays lives reclusively. Fortunately Johnson's recorded legacy speaks volumes for his talent. This album plays a major part in doing just that
Lou Johnson



Lou Johnson had a couple of hits in America in '63 and '64 with 'Reach Out For Me' and 'Always Something There To Remind Me' but he did not seem to have what it takes to maintain a sufficient level of commercial success or to keep on making records. He could not establish a strong enough identity on which to form a large fan base in the way some of his contemporaries like James Brown, the Isley brothers or Al Green did. But he did keep on touring regularly in America.

Lou Johnson was born in Brooklyn where he grew up during the late forties and fifties. Like many contemporaries he started singing in choirs and gospel groups at local Pentecostal churches in his early teens. Unlike many others he studied at Brooklyn University in the late 50s where he majored in Music Studies. In the process Johnson became an accomplished musician on keyboards and percussion. He sang lead with the Zionettes who were signed to Simpson Records and cut a few gospel tunes there. 'Talkin' About the Man' created a lot of local interest and Lou went secular with the Coanjos and 'Dance The Boomerang'. The Boomerang didn't click and two thirds of the trio Tresia Cleveland and Ann Gissendnner left to form the Soul Sisters, so Johnson began to perform solo. He signed to New York label Big Top that operated out of the Brill Building through Larry Utall's Hill & Range publishing house in '62. Utall introduced Lou to Burt Bacharach who liked what he heard and saw great possibilities for him as a solo act.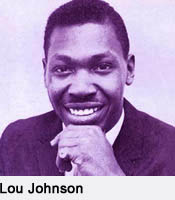 At the first session Johnson met Bill Giant, Bernie Baum and Florence Kaye who were just getting established as a song writing and production team and were staffing at Big Top Records. During the next five years this team were to supply Johnson with some great material. But good as the tracks were, they were not considered a strong enough introduction and Utall put Lou in the studio with Bacharach to produce 'If I Never Get To Love You'. The results were promising but the record was not a hit and the follow up 'Wouldn't That Be Something'/'You Better Let Him Go' met with much the same reaction.

Almost a year later Lou cut the first of two great songs that he will be remembered most for but 'Reach Out For Me' only became a minor US R&B hit at 74 in October the following year. It's an outstanding song, one of Bacharach & David's best and it inspired a mesmerising delivery from Lou with powerful production values from Bacharach. It is simply one of the best records of its kind and still sounds superb now. Fate dealt itself into the equation however when Big Top went broke just as 'Reach Out...' was moving up the Hot 100 and they simply could not keep up with the public's demand for the record. Its success did register in the UK though and London issued it as Lou's first single that enjoyed bubble under sales.

By this time Bacharach & David writing team were really beginning to gain some momentum they had already clocked up several hits with Gene McDaniels, Dee Clark and Johnny Mathis and were now having success with the Shirelles, Chuck Jackson, Tommy Hunt and the Drifters. Burt had discovered Dionne Warwick working at a Drifters session he did arrangements for and she had already scored her first solo hit with 'Don't Make Me Over'. Lou got his biggest hit with the classic '(There's) Always Something There To Remind Me' that reached 49 on the R&B charts and enjoyed pretty good pop sales in August '64 but didn't quite make the US Top 40. Bacharach concentrated on Dionne and they had hits together for the next decade but Lou and Burt did not work together again.

London released Lou's hit in the UK but Sandie Shaw's cover snatched all the sales and gave her a UK number one with her debut, in September and October that year. For the first time Johnson was clobbered by the cover version, and suffered accordingly. 'Kentucky Bluebird (Message To Martha)', also cut at Lou and Burt's last session was the next single that inexplicably missed both American charts but better in the UK, despite Adam Faith's cover that went to 12 while Lou had to be content with the 36 slot. Still it was his biggest UK hit and gained him a little more recognition here.

Johnson continued to work with Giant, Baum & Kaye who came up with 'Please Stop The Wedding' /'Park Avenue' next. Once again though it sold quite well both sides of the Atlantic there was not enough general interest to create any chart action at all. G/B/K realised that they were going to have to find some broader appeal in order to survive this string of flops. So they wrote lyrics to and re-arranged Sidney Bechet's 'Petite Fleur' that had been a worldwide hit in the late '50s. They gave it the new title of 'A Time To Love, A Time To Cry' and it came out on the reactivated Big Top Label in '65. Lou made the transatlantic crossing to promote the single with club appearances. He began well with a TV spot on 'Ready, Steady, Go!' on 24 September where he performed impeccably and was seen for the first time in Britain. Unfortunately 'A Time To Love...' was a bigger miss than his other singles. In trying to create wider appeal his producers had missed the soul fans completely, who were not interested in a tune they associated with Trad Jazz. Giant, Baum and Kaye were unaware of this and followed up with 'Anytime' a reworked standard that they treated to the same concept. The record dropped out of sight like a lead balloon. Big Top had an album entitled 'Anytime' scheduled and pressed some review copies but the company went under again in '66 before the record was released. Lou's last single for the label was an offbeat version of 'Walk On By' that was produced by R&B promoter Marshall Sehorn and Allen Toussaint.

It was an odd choice for a single, only two years on from Dionne's big hit with the same song and went the way of most of the others The second phase of Johnson's recording career began with Cotillion Records in 1968. Due to a lack of hits it turned out to be just a one-album deal. Sweet Southern Soul indicated his move south, when Lou left his native New York and relocated in Dallas. Of the eleven songs on the album only two written by Don Covay were new songs. Amongst the rest were Johnson's versions of Ben E King and Drifters records given the Muscle Shoals treatment. The album was produced by Atlantic heavyweights Jerry Wexler and Tom Dowd with arrangements by Arif Mardin. But Sweet Southern Soul received tepid reviews and was not released in the UK. Not many vinyl copies found their way into British record shops but there was an unofficial CD issued by Marginal (in Belgium) that also includes an extra 13 Big Top sides. More recently the US Water label reissued Sweet Southern Soul in July '04.

The third stage of Johnson's recording career came with Volt Records in '71. The company reunited Lou with Allen Toussaint and Marshall Sehorn and they began work on With You In Mind the superb but very underrated final album (so far). Toussaint constructed the set like a concept album, where the songs seem to run almost continually. It has the soulfully relaxed feel of an intimate late night small club atmosphere. Again, as with the previous album, it did not fall into any soul mainstream but this time everything came together perfectly. Volt issued only one single at the time and still his greatest album was not issued in the UK and has not yet been issued on CD.

Ady Croasdell who runs the legendary Soul Nights at London's 100 Club and manages the great Kent label was in touch with Johnson five years ago and attempted to bring Lou over for a UK tour. Sadly, for a number of reasons, this did not transpire. It did establish however that Johnson was still alive, well and again regularly performing at clubs and venues in the California area. In the meantime, the cult of Lou Johnson still grows through the interest of collectors and fans of his records.


Singles
IF I NEVER GET TO LOVE YOU 1963

LAST ONE TO BE LOVED 1964

THERE'S ALWAYS SOMETHING THERE TO REMIND ME 1964
Northernsoultrains Youtube Channel

The trains very own page with Northern Soul and Motown
Back to the ARTISTS page